What happens when you have 5 mothers, one of which is an amazing photographer, spend the morning at Target, completely child free?
You let loose, have fun, and create the most epic Target photo shoot!
It is no secret that Moms love Target. Who am I kidding? It's not just Moms! Everyone loves Target! But seriously, every Mom that I know loves the store that is so often referred to as The Mothership. Those red shopping carts are a sign of love and passion. As soon as you walk in the door, that passion takes over, and just for an hour, sometimes two or three, you can escape all of your worries perusing the aisles of the most addictive store in the United States. With the smell of Starbucks in the air, you know that you are home, and soon enough your cart will be filled with shoes, clothes, and throw pillows that you didn't realize just how much you needed in your life.
For me, I have my Target trips down to a science. I am immediately sucked in by The Dollar Spot and from there, it is all down hill, but in a good way. I can spend an hour going through $3 succulent planters and $1 stationary packs trying to find just the perfect piece for my home or desk. They also have great stuff for Vivi, most of which is usually $1, so I can keep her entertained while I shop. After The Dollar Spot, we make a quick stop at Starbucks for coffee and cake pops, and then we are ready to take on the store. I head straight to the clothes and spend a majority of my time looking through racks, taking mirror selfies and trying on items. I then hit the shoes and accessories, because I clearly need a complete outfit, and stock up on the cutest pieces. After that it is makeup and hair products (Can we say Kristen Ess?) and I finish up my trip with coffee mugs and groceries. I bribe Vivi with a quick trip down the Shopkins aisle and three hours, and $300 later, we are done!
That, however, is a typical Target trip. What happens when it is not so typical, kid-free, and you are accompanied by some of your best girl friends? You become a kid again and have the most epic Target photo shoot you could ever imagine. Kicking back on all the plush chairs and throw pillows, taking selfies with all the coffee mugs, having conversation at the patio furniture, and trying on all of the clothes and shoes. Don't forget to add in lots of wine, buggy rides, and an enormous amount of laughing, and you literally have the most perfect Target trip this Mom has ever had.
This trip is every Mom's dream. Target is our playground and that is how it has earned the name The Mothership. It has everything we need and everything we didn't know that we needed. A golden weenie dog tape dispenser? You totally need that! (And I actually have that!) An adorable pen mug with a face? How have you been living without it? Another graphic tee about guacamole? Get in my cart now! Target just gets women, and for that, it will forever hold a special place in my heart!
If you have not done it lately, I highly encourage you to go to Target with your girlfriends, completely kid-free, and just have fun! It was such an amazing day and was exactly what this tired Momma needed. Find your tribe and love them hard, especially when they are willing to act like fools with you at Target!
Meet my Mom Tribe and fellow Target lovin' Mommas:
Julia of Glitter and Juls
Kailey of Little Miss Payne
Kate of Kate Laraine
Tori of Life After a Little
I hope you enjoyed this Target photo shoot as much as we did. Life is too short not to have fun every once and while, especially when that fun is at The Mothership. Here is to a morning with girlfriends, a Venti Starbucks, and a newly filled Dollar Spot!
Photography courtesy of Kate Laraine Photography.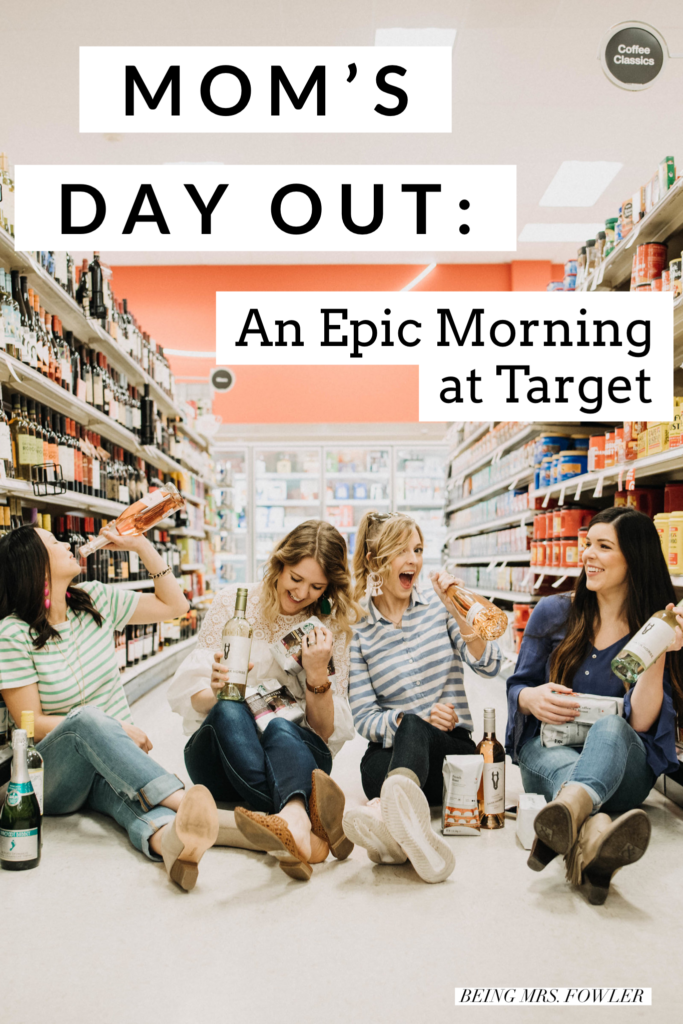 ---