This year of all years, is the year to shop small, support local, and really give back to the community. As a blogger, I have been privileged to work closely with so many small businesses, many of which are in my community. The people behind those businesses are some of the nicest, most genuine, hardest working people I have ever met. They literally are putting it all on the line, on a daily basis, to fulfill their dreams. I count myself lucky to not only know them, but to also have the opportunity to to work with them.
This Christmas, I want to highlight a few of the businesses that have really stood out to me over the years. I try to be genuine and honest with all of my readers and followers so I never promote something that I don't actually like. When coming up with the list of businesses that I wanted to showcase this holiday season, I thought of the places where I like to spend my own money. Each of these places has a special place in my heart and I hope that you love them just as much as I do. I encourage you to think of them if you choose to shop small this holiday season and at the very least, show them your support by giving them a follow on Instagram!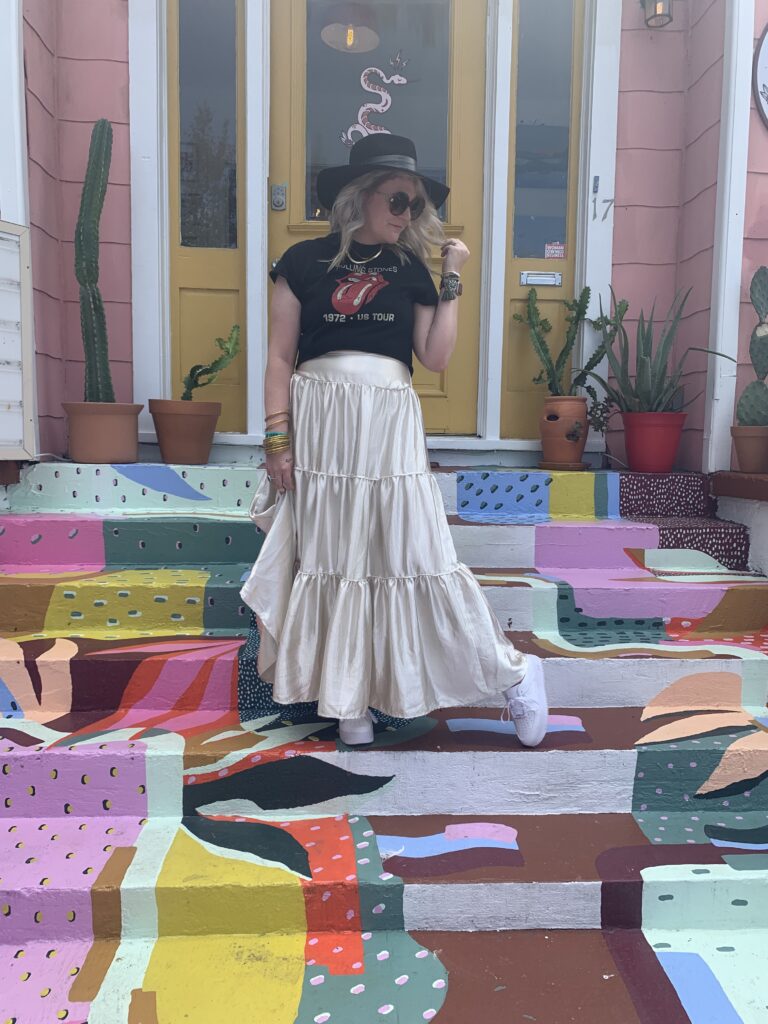 Dos Femmes
Dos Femmes is a boutique out of El Paso, Texas that features a curated collection of goods that represent the combined styles of owners and sisters, Cassie and Lexi. With a large assortment of clothing, accessories, and gifts, there is sure to be something for everyone. While their store is located in Texas, anyone can shop their store by visiting their website.
The true star of the collection is their handmade earrings. Every earring in the collection is 100% handmade by elderly men and women in rural villages outside of Jaipur, India. The collection not only creates jobs for these elderly individuals, but it also brings awareness to the dying art of 100% handmade jewelry. Because each piece is handmade, there is a limited number of each earring. Each piece is beautiful, unique, and sure to be a statement with any outfit. Make sure you are following them on Instagram so you don't miss out on any fun, new earrings.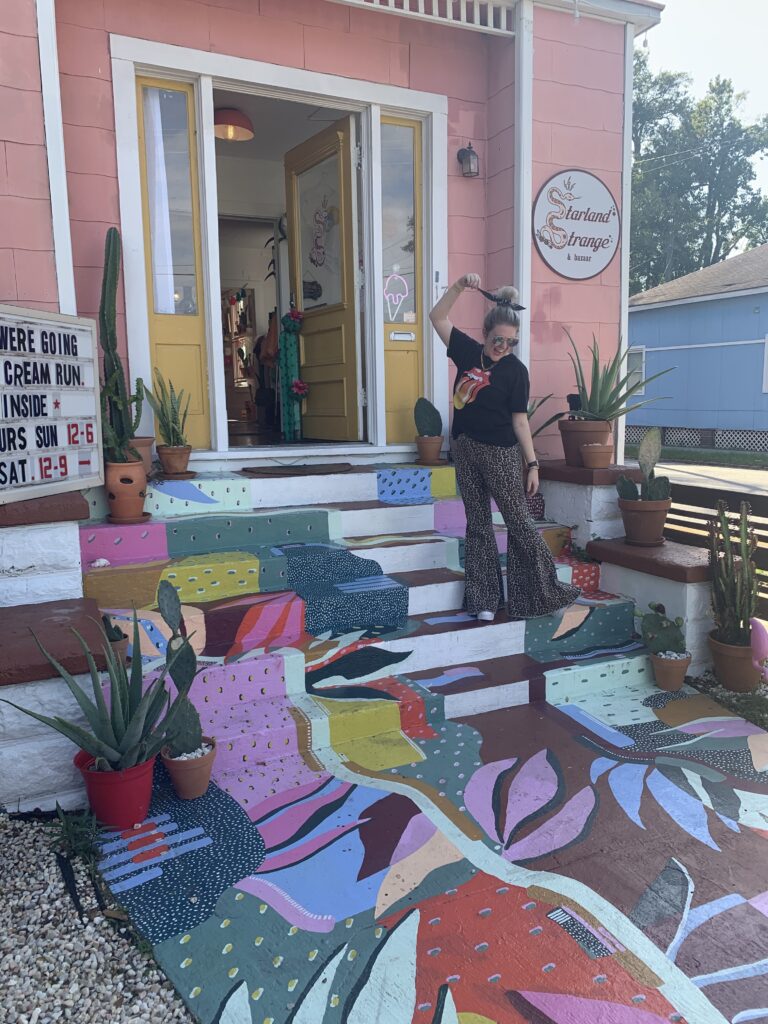 Magical Pop Co.
If you have been a reader for a while now, it is no secret that I love Disney. I am constantly looking for ways to add a touch of Disney magic into my daily life. One of the easiest ways I have found to do this is with Disney inspired pop sockets. A pop socket sticks to the back of your phone and gives you a better grip, preventing the likelihood of dropping. It can also act as a kickstand when watching videos or movies.
Handmade Disney pop sockets have become a huge trend and when searching Etsy one day, I came across Magical Pop Co.. Not only is this business the most affordable collection of Disney inspired pop sockets that I have found, it is also home to some of the most unique. The owner, Morgan, prides herself on having unique designs and does not copy the work of other designers. She is constantly coming up with new designs and currently has over 95 different styles in her shop. If a pop socket is not your thing, she also sells badge reels, keychains, and ornaments. Make sure you are following her on Instagram so you don't miss out on any new styles or specials.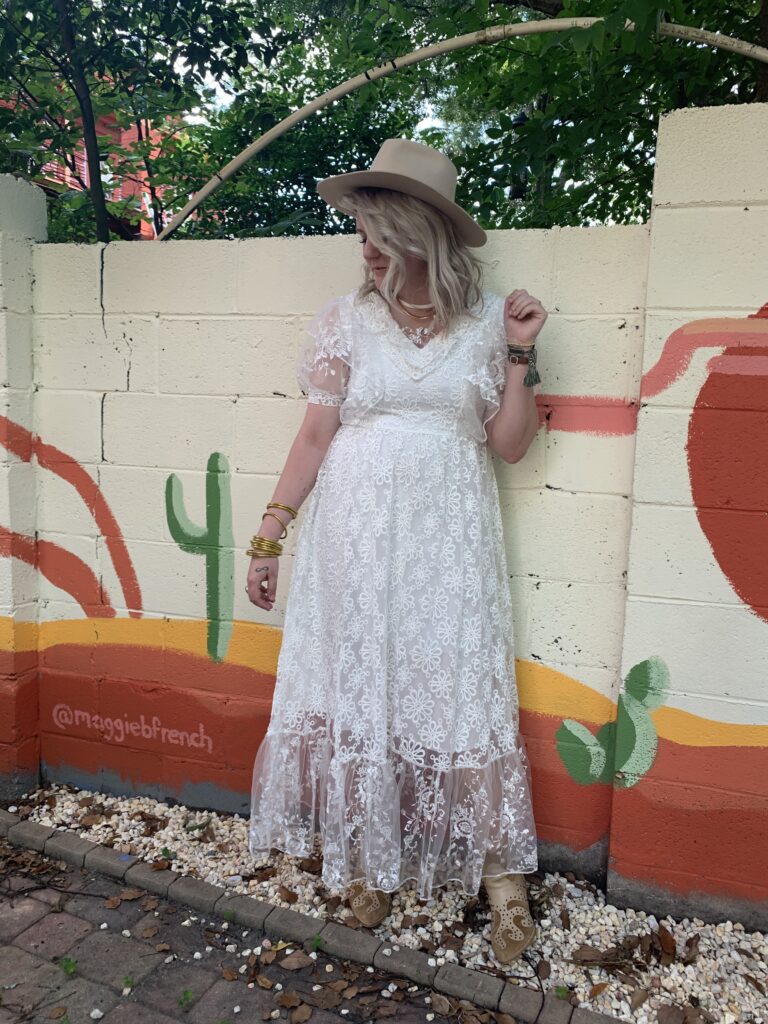 Simply Shemwell
Simply Shemwell is a company based out of my hometown, Savannah, GA, that makes homemade cups, tees, and collectibles. The star of her shop is her Starbucks cups with an upgrade. Each cup features a fun decal around the Starbucks logo so you can showcase your likes, the holiday, or your favorite sport. My favorites are the designer inspired ones, but I also love a good holiday cup. If a cup is not your thing, I am very excited about her personalized Santa sacks, and she has some very cute tee designs. The owner is quick to answer any questions and is always listening to feedback to add what you want to see into the shop. Make sure you are following her on Instagram so you don't miss out on any new designs.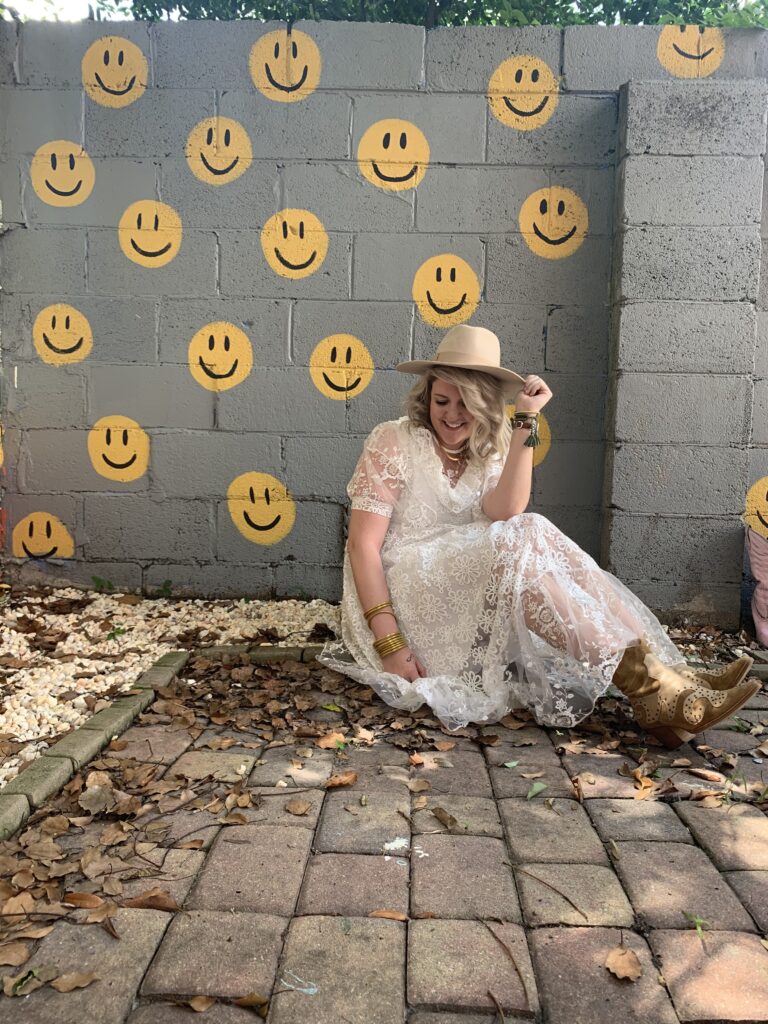 Brooke Lancaster Art
The super talented Brooke, of Brooke Lancaster Art, is a self-taught artist out of my hometown. Painting had always been an escape for her so she decided to turn it into a business that she knew she would love. In a short time, she has been able to become a full-time artist. Her collection of landscapes, portraits, and even custom commissions would be gorgeous in any home. She has expanded her collection to include hand-made jewelry, as well as more affordable prints. I have quite a few paintings of hers in my own house and you can check them out in this blog post. Her use of color is inspiring and I am always excited to see her new collections. Make sure you are following her on Instagram so you don't miss out on any drops.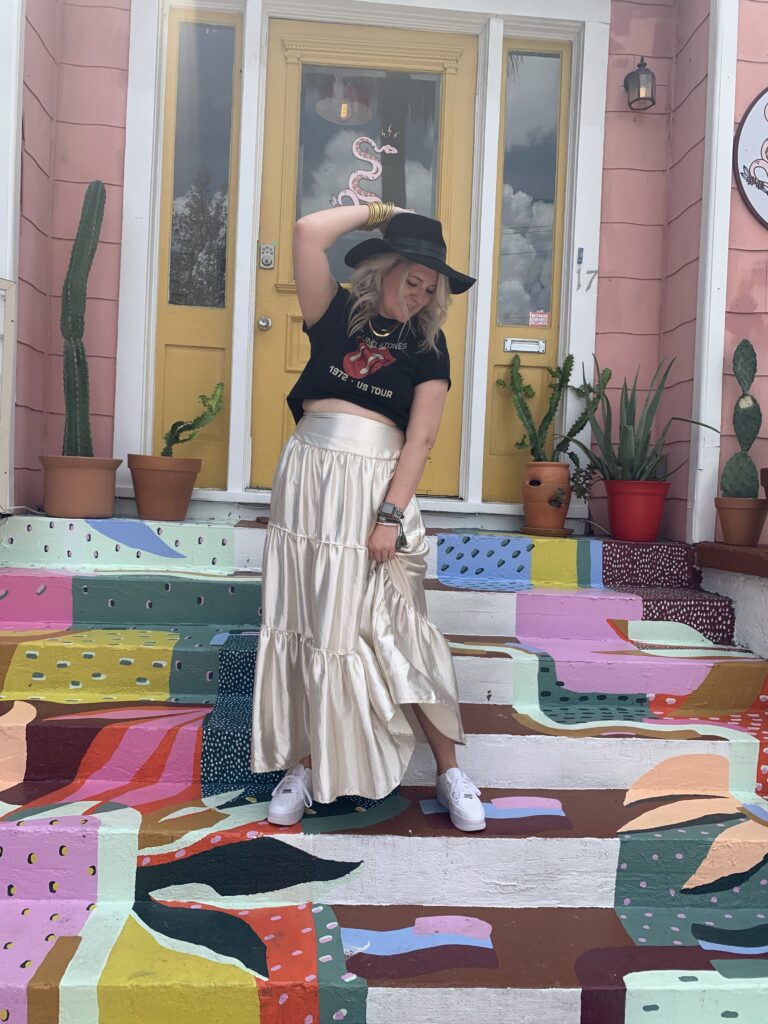 Lulu's Closet Clothing
Another business that I love, right out of my hometown, is Lulu's Closet Clothing. With two locations, both inside Merle Norman in Rincon and Pooler, it is so convenient to shop in person if you are a local reader. Not local? No problem! You can easily shop their website or send them a DM on Instagram. Make sure you are following them so you do not miss out on any new arrivals. They are always getting in new shipments to keep their inventory fresh and on trend. They also have a great selection of Kendra Scott jewelry available in store. My favorite thing that they sell, however, is the upcycled Louis Vuitton handbags. These are gorgeous bags featuring authentic LV leather. It is a great way to own a little piece of luxury at a more affordable price tag.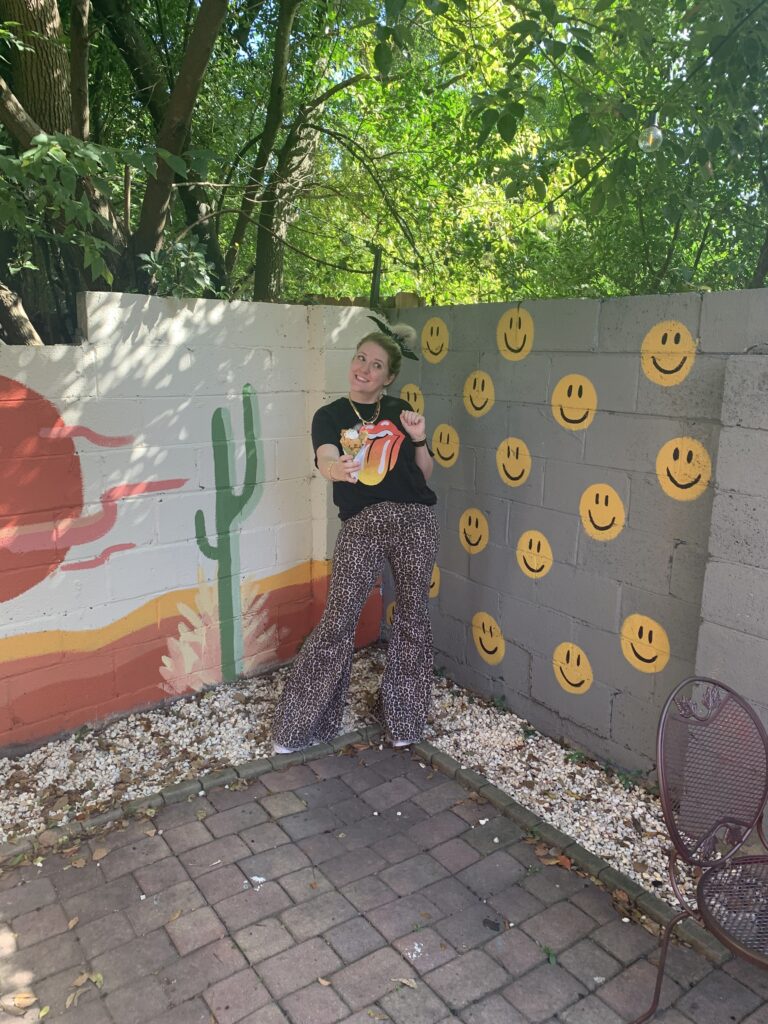 A Proper Princess Bows
As the Mom of a little girl, I love hair bows. Add in the fact that my daughter is the biggest girlie girl and you will understand even more our love of bows. Recently we were introduced to A Proper Princess Bows and we instantly became addicted. It has quickly become one of our favorite small businesses and are absolute favorite place to buy bows.
These gorgeous bows are all handmade and almost every one of them has a touch of Disney magic. They are big, beautiful, and just a little bit extra. The best way to become acquainted with this company is to give them a follow over on their VIP Facebook page. Here you will find out about upcoming drops and see all the sneak peeks. The site becomes available to shop almost every Friday at 7PM CST. You have to be quick, and ready to shop, because things will sell out fast. Since each piece is handmade, there is only a limited number of each item. You can also give them a follow over on their Instagram page!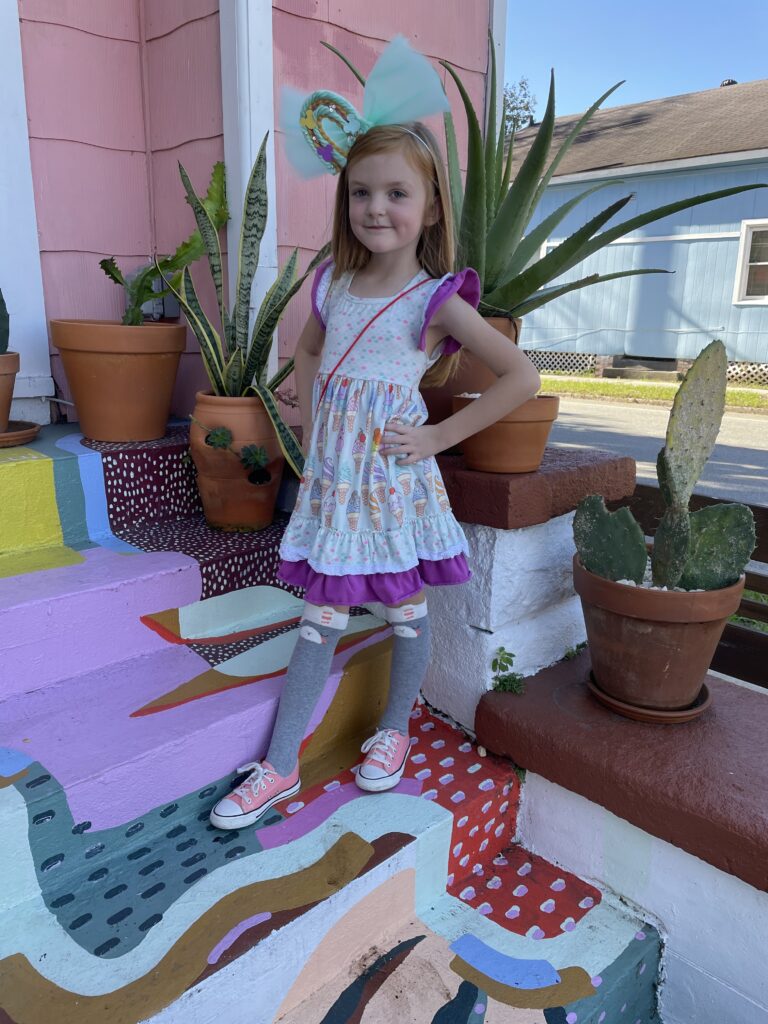 Lovely Gray Designs
Lovely Gray Designs is a brand new shop straight from my sweet friend Anna. Anna had always loved creating and decided to turn that love into a business. The star of her shop is her hand-drawn stickers. These stickers are perfect for sticking on your laptop, water bottle, or whatever you desire. The sticker designs are also available in prints, perfect for adding a touch of whim to your walls. Make sure that you are following her on Instagram so you do not miss out on any new designs, specials, or FREE hand-drawn wallpapers for your phone.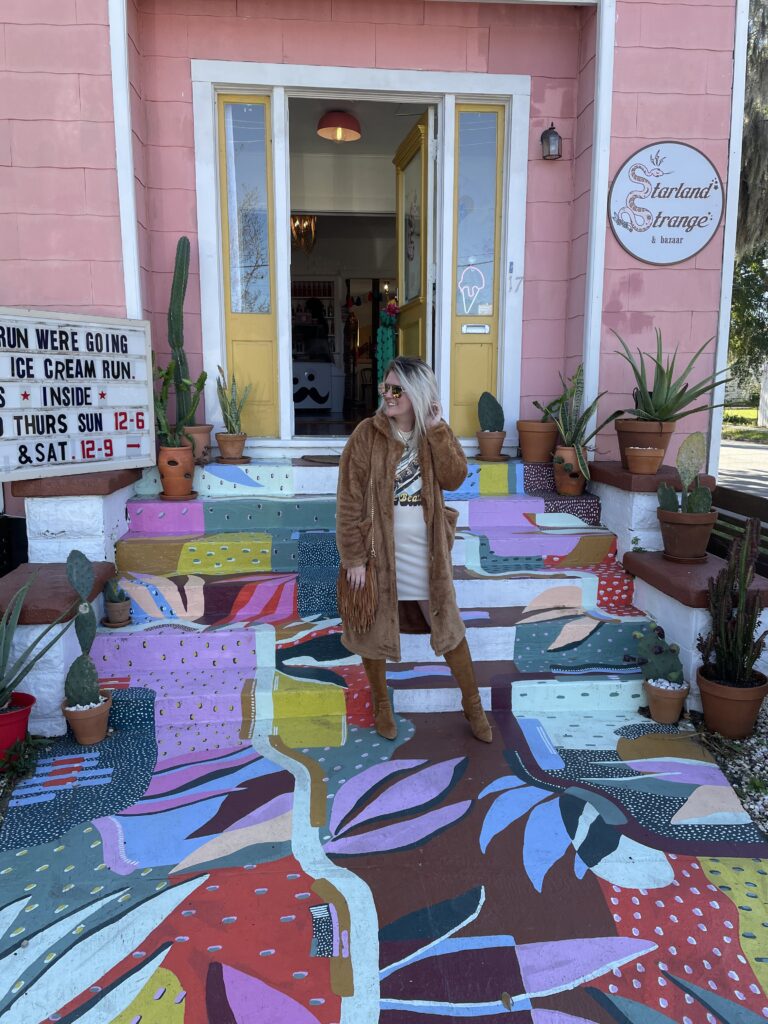 Morgan Rae Boutique
Morgan Rae Boutique is a locally owned clothing boutique in the heart of downtown Savannah. Conveniently located on Broughton Street, Morgan's collection of hand-picked clothing is perfect for anyone with a love of fashion. Flirty party dresses, classic midi skirts, and fun graphic tees are just a few of the pieces that she has available to purchase. Each piece in the store is hand selected so that something is available for everyone, no matter their age, shape or size. Her sophisticated and contemporary clothing is at an achievable price point, so you easily add a new piece to your wardrobe. If you are not local, you can conveniently shop her website, or send her a DM on Instagram. Make sure that you give her Insta a follow so you don't miss out on any new arrivals or sales.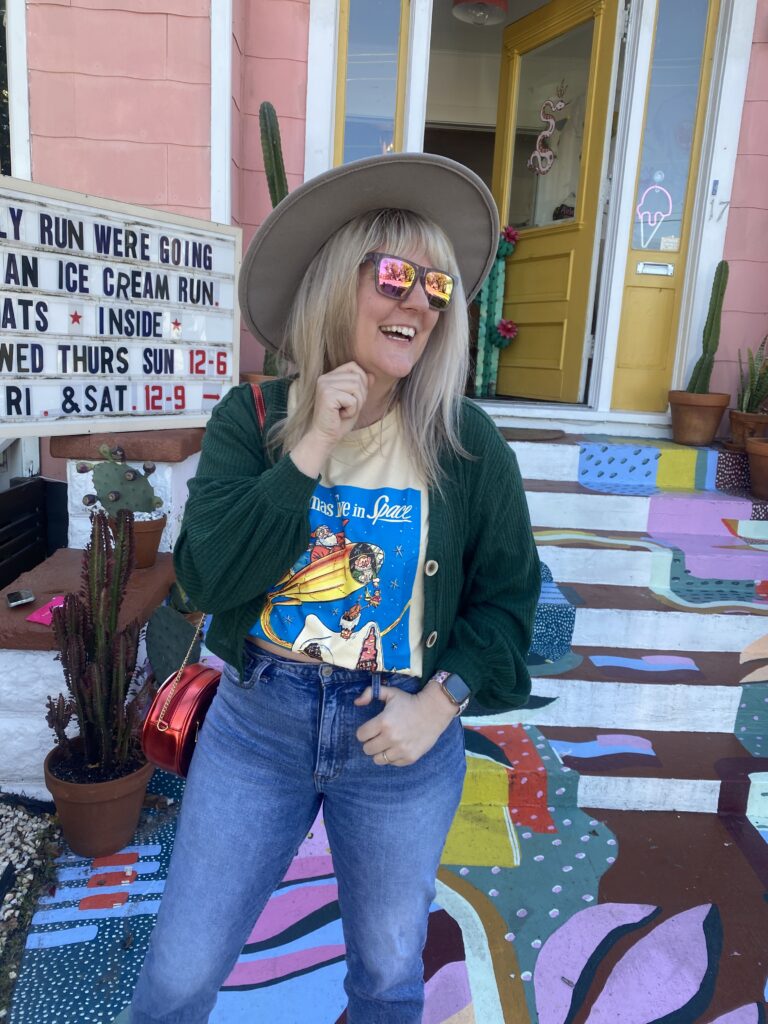 Frankie's Boutique
When visiting new places, my husband is always on the lookout for arcades. When visiting family, he found an arcade in downtown Macon, GA that he had to go check out. Not much of a gamer, I decided to look in the area to see if there were any cute boutiques to occupy my time. To my surprise, right next to the arcade, was the cutest little boutique, Frankie's. The first time that I visited, that had only recently opened. I was privileged enough to meet the owner, Abby, and her entire family, and the rest is history. Not only did I gain a new friend in Abby, I also fell in love with everything at Frankie's.
With an ever-changing collection of sweaters, tees, pants, and dresses, there really is something for everyone. They also proudly carry plus size, so no matter your shape or size, you are sure to find you something special. If you are not local to the Macon area, you can easily shop online! Make sure that you follow them on Instagram so you do not miss out on any new arrivals!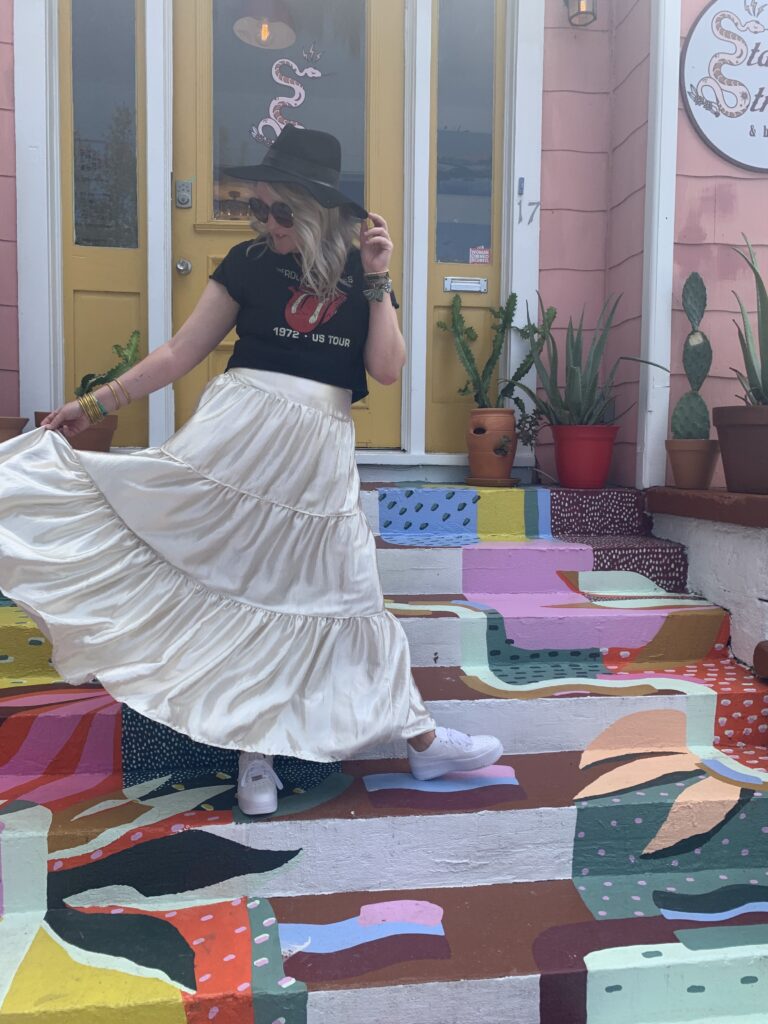 Starland Strange
There are so many unique, fun places to shop in downtown Savannah, but one of my absolute favorites is Starland Strange. I feel like the best way to describe this store is to quote their website, "Remember that time Dolly sang about her coat of many colors? Yea, we are kinda like that… but we are a store. We've got an eclectic mix of things and stuff and all of it is awesome." And everything in the store really is awesome.
I can almost guarantee that it will be the amazing mural by JULU that draws you into the store, but it will be all that the store has to offer that keeps you coming back for more. My kids absolutely love the snow cones and ice cream cones, while I am all about their tees and vintage finds. They also have a sticker bar, unique gifts, and you can even adopt a cactus.
It is truly one of mine and my family's places to visit on the weekend. In fact, we love it so much that I used my collection of photos from Starland in this post. I thought it was only fitting! While you won't be able to get their amazing ice cream cones shipped to your house, you can shop their tees on the website. Make sure to give them a follow on Instagram. Their posts are sure to add some color to your feed!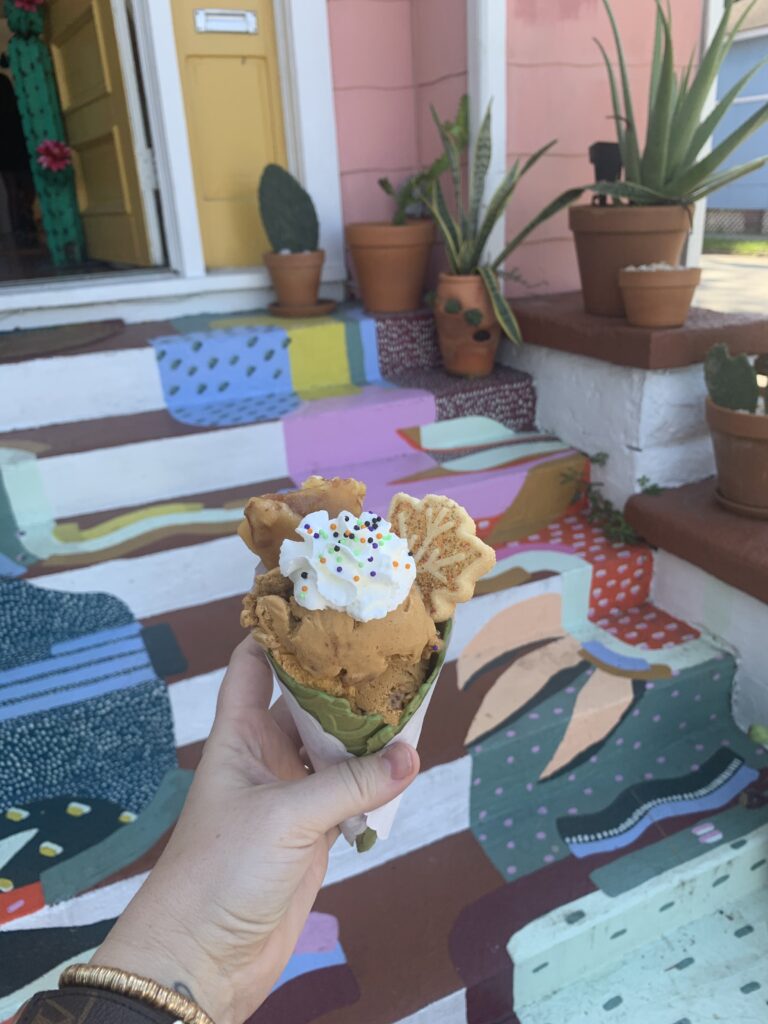 Ayla Jane Designs
I had the privilege of connecting with Ayla Jane Designs a few years ago on Instagram. The owner, Cherryl, was starting a new business and was wondering if I wanted to collaborate. I checked out her site and instantly fell in love. Named after her two daughters, Ayla Jane Designs is a collection of leather earrings and bracelets. What started as just a few pairs of earrings has quickly grown into 15 styles and more than 70 different leathers to choose from! Everything is handmade and each piece is very reasonably priced.
What I really love about Ayla Jane Designs, is that when you shop, you are shopping for a cause. For each pair sold, $1 is donated to Journey Learning Center, a preschool in Grapevine that provides a multidisciplinary treatment approach for children with Autism Spectrum Disorder. You can easily shop all of her styles on her website, but make sure you give her a follow on Instagram! This is where she shares all of her sneak peeks and any specials that she may be running!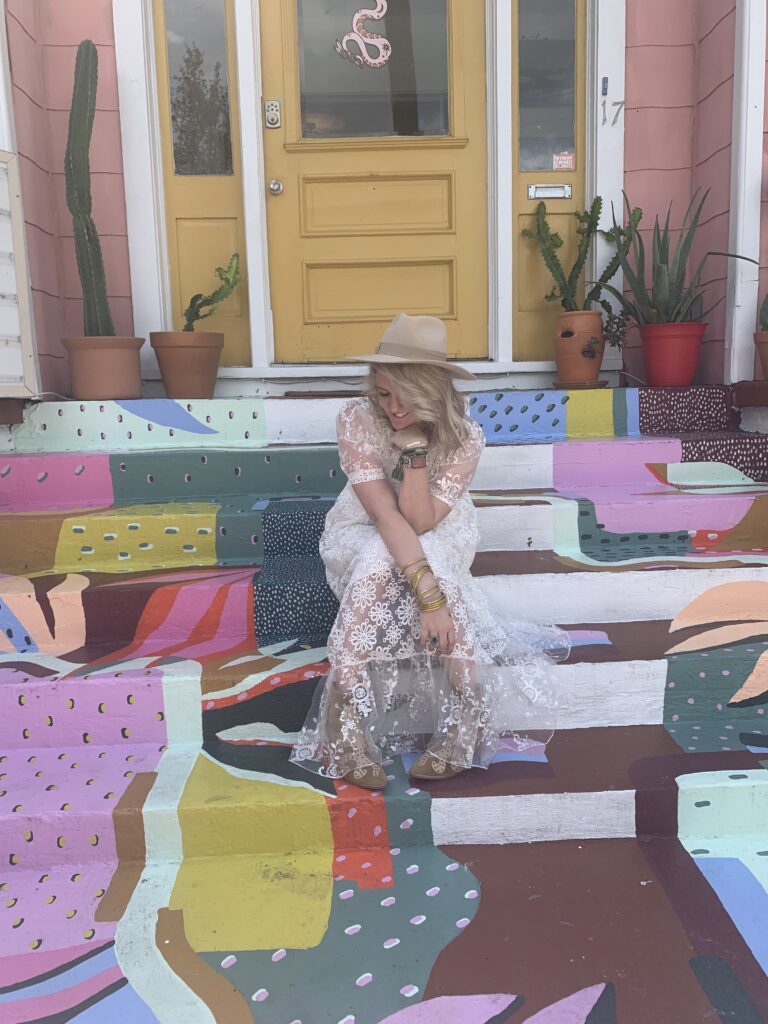 Dawn Tayler Boutique
You know how Instagram has ads that pop up on your feed? Not going to lie! That is exactly how I found Dawn Tayler Boutique. This beautifully boho boutique popped up on my feed one day when scrolling and I instantly gave them a follow. Everything on their site perfectly matched my style and I made my first purchase that very day. That purchase was a watch band for my Apple watch that I still use to this day and always get compliments on.
Now, whenever I am looking for a new piece of clothing, they are one of the first places that I check out. I love all of their dresses and they are the perfect length to wear to work. They also have an amazing selection of hats, all of which are super reasonably priced. You can check out one of them, pictured below! This is another boutique that you are going to want to follow on Instagram. It is the best place to see all of their new arrivals and maybe even snag a coupon code!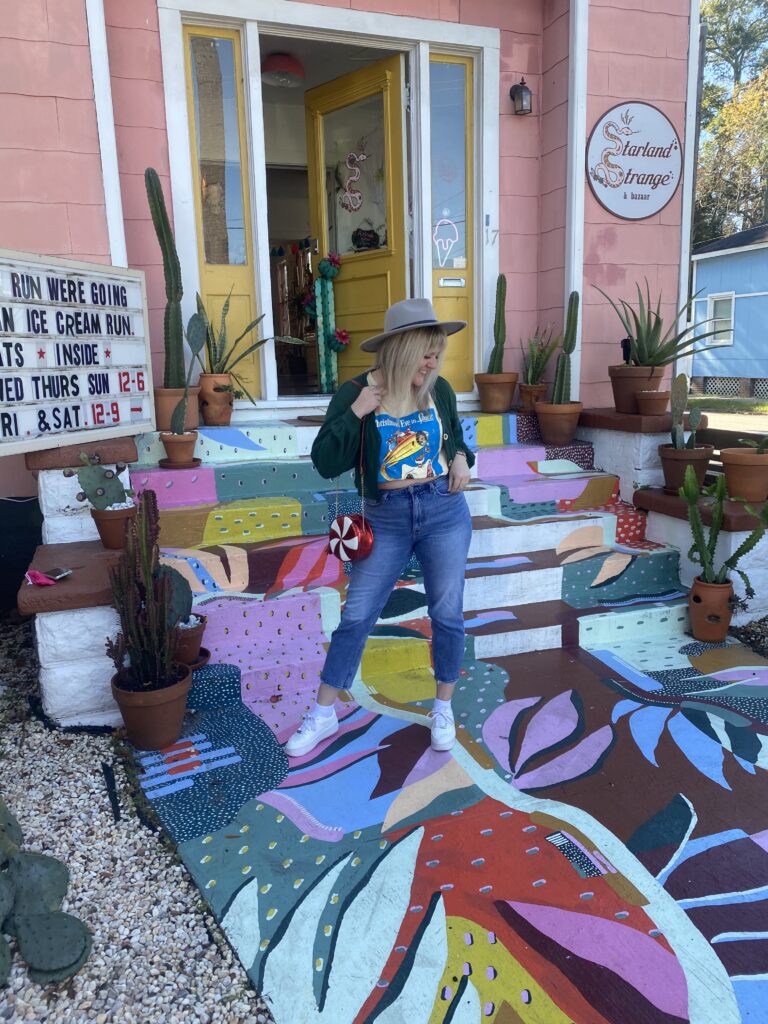 Deka Lash
Over the summer, I saw an advertisement for a free set of lashes. I was instantly intrigued and started to do a little research. A new Deka Lash was opening in my town and they needed "models" so that their lash artists could practice. Deka Lash is a franchise that specializes in lash extensions. They have over 100 studios in 26 states and counting. Being that it was the summer, I had plenty of time so I figured it couldn't hurt to check them out.
After that first set of extensions, I was hooked. Every two weeks I look forward to going to get my lashes filled with my lash artist, Ansley. It is just one small way that I can treat myself during this difficult year. Not to mention, since I am always wearing a mask, I rarely wear makeup anymore. Lash extensions help my eyes to pop and really stand out, even with a mask! While I do go every two weeks, the retention of the lashes usually could go much longer than that. I encourage you to check out your area and see if you have a Deka Lash to visit.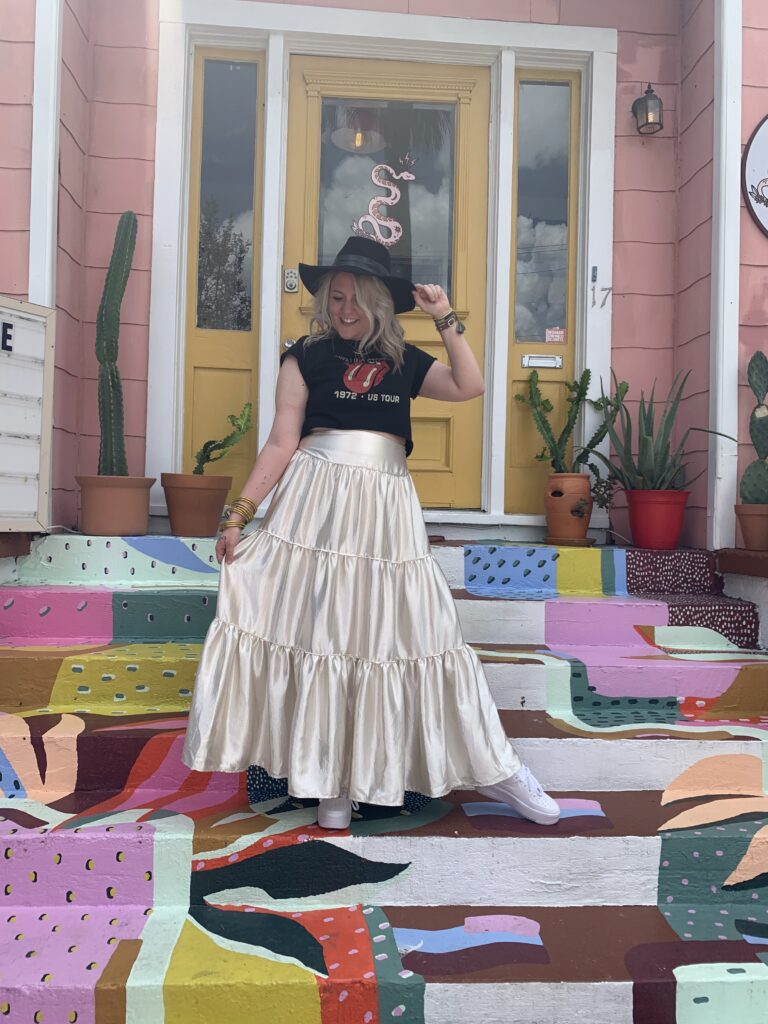 Hopefully this list inspires you to shop small this holiday season. Whether you choose to shop my list of businesses, or shop some of your own favorites, even one purchase can make all the difference. Remember, when you are shopping small, all that money is going back into the community. This can make a big difference in your own community, especially if they are local. Purchases at small businesses pay for dance lessons and football practices, not expensive cars and million dollar homes. If you have your own favorite small businesses, I encourage you to share them with me! I would love to add some new places to shop to my own list.
Happy Holidays!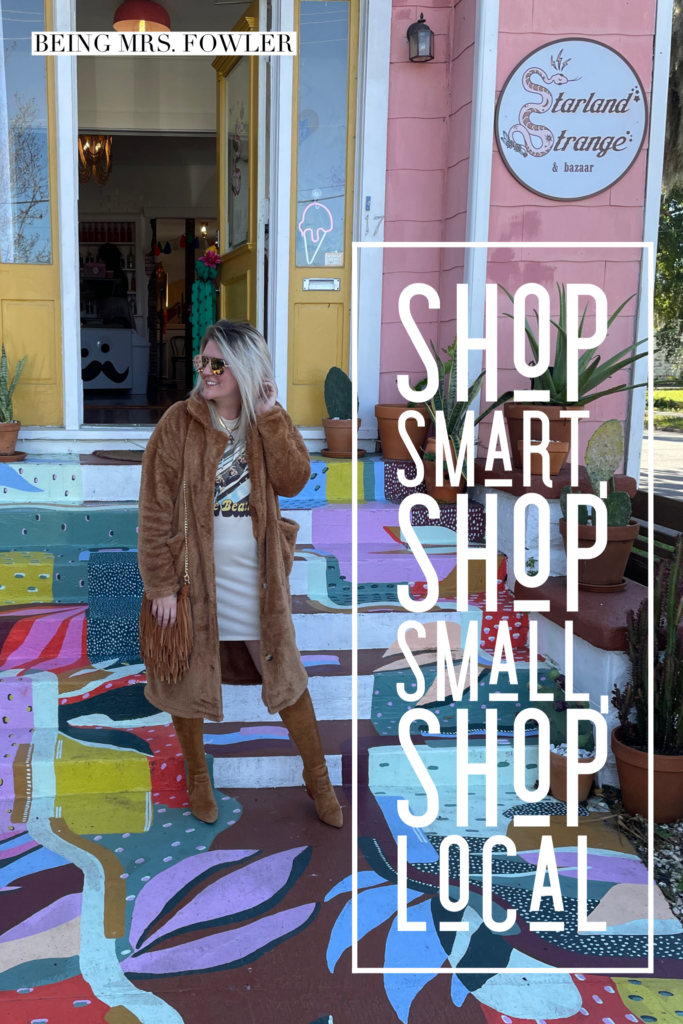 ---