For our 5th wedding anniversary, Justin and I headed to one of our favorite towns to enjoy some time together. When I was making the list of all the things that we hoped to do on our trip, the first thing that I wrote down was Dollywood. You all know that I am very much a Disney girl, but I have never had the opportunity to visit the home of Queen Dolly. Justin however, has been many times, and was already jumping at the chance to head back. Luckily we were able to make it work and I am so glad that we were able to spend the day riding rides, eating all the food, and just enjoying the day together.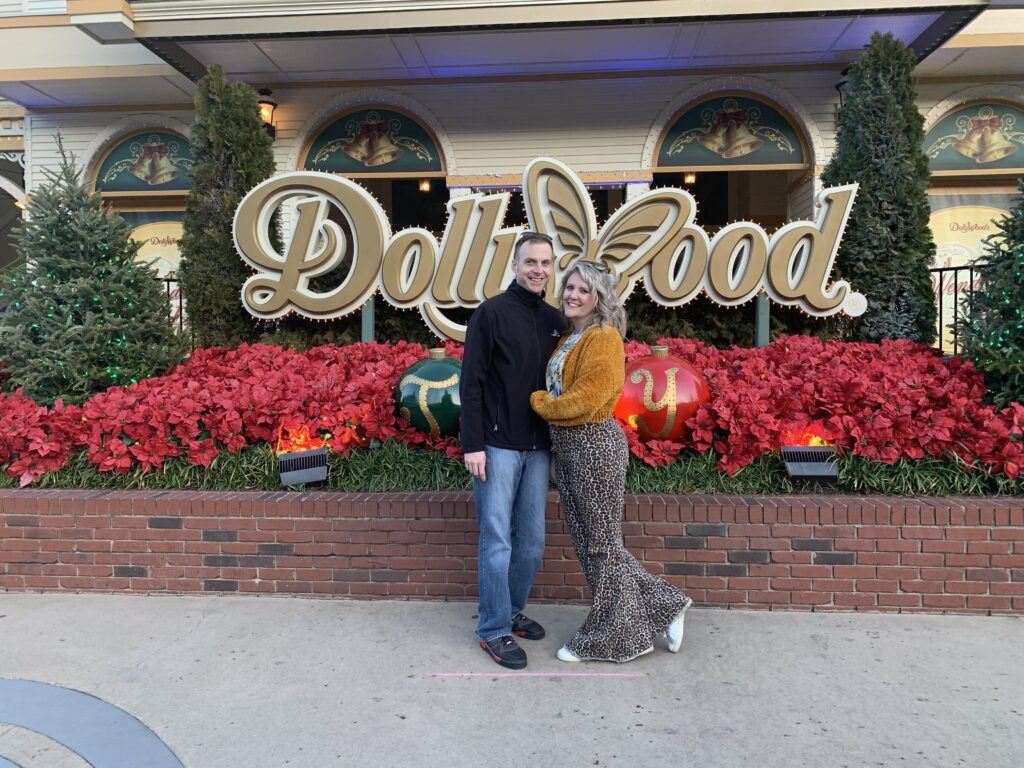 We were staying very close to the park so we got to the park as soon as it opened. One thing that I will suggest is to pay extra for Preferred Parking. It was cold the day that we were in the park so it was nice to park right by the entrance. Dollywood's parking lot is rather large so it was definitely worth the extra fee to park closer to the entrance.
Riding Along
Dollywood is a massive theme park, spanning across 150 acres. It offers more than 40 world class rides, high-energy entertainment, award-winning dining and the friendliest park atmosphere in the world! Because of this, it is good to have some sort of a plan when entering the park. We decided to just veer to the left, towards Timber Canyon, and work our way around the park. Mystery Mine is one of Justin's favorite rides so, being the good wife that I am, we hoped right in line for him to ride. Did I ride? That would be a big negative. I don't do roller coasters! I was however, happy to wait in line with him until it was his turn to ride. The staff was very accommodating and allowed me to wait for him until he had finished. Seeing the smile on his face when he got finished riding was definitely worth the short wait.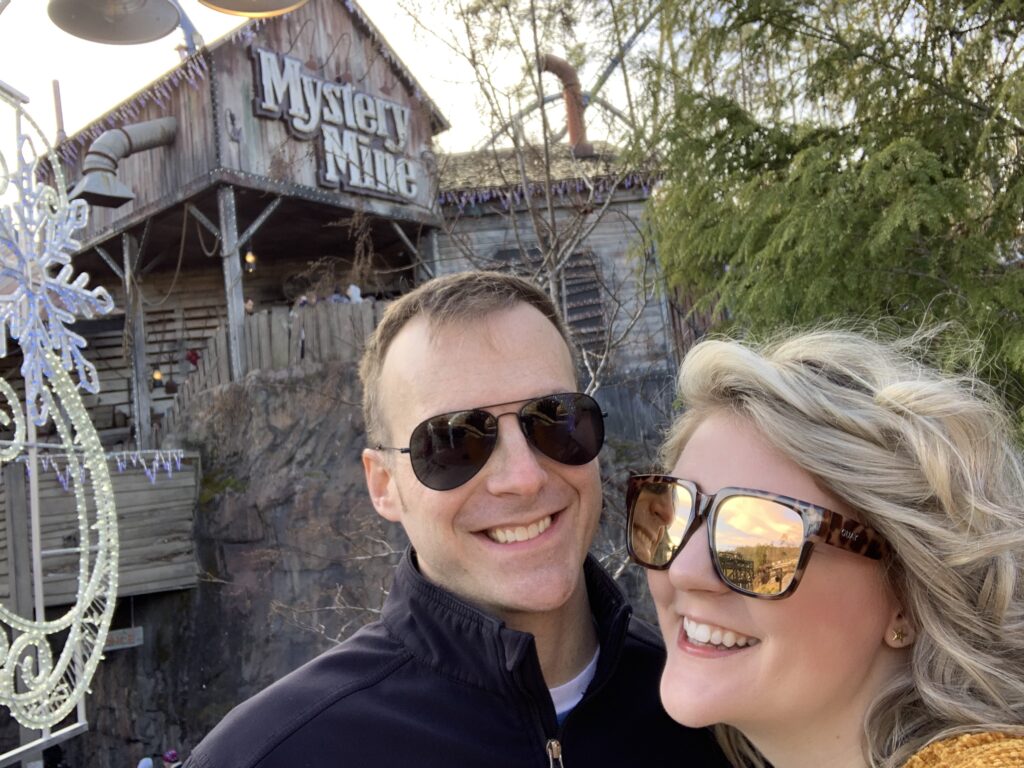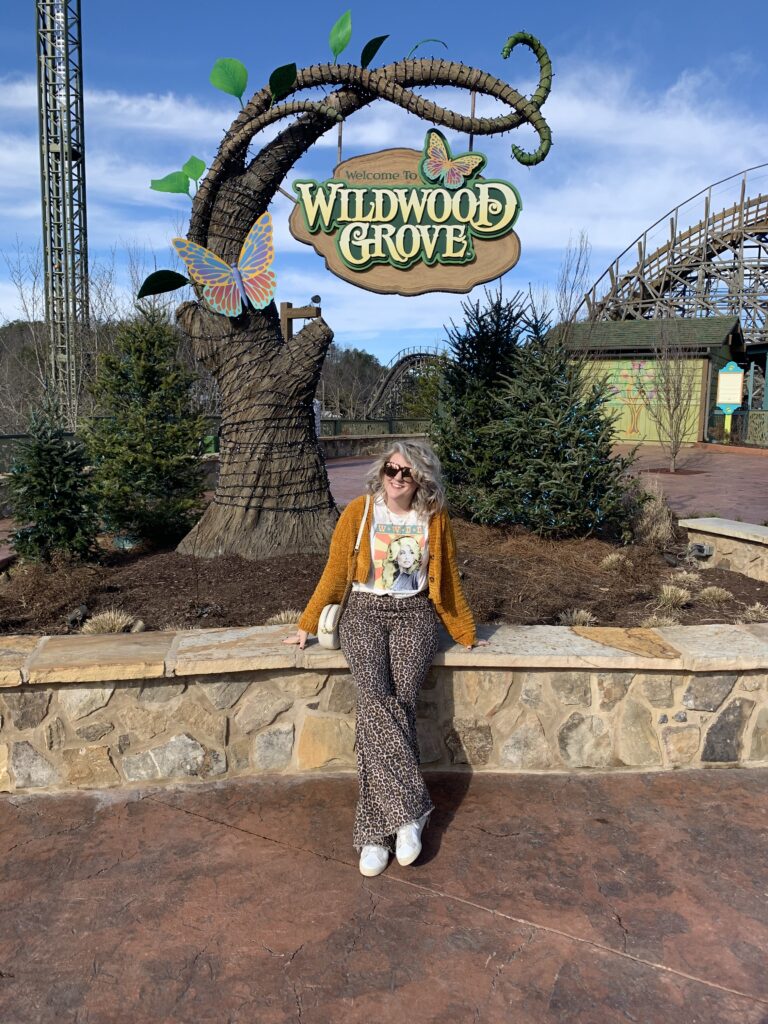 After riding Mystery Mine, we headed to Dollywood's newest land, Wildwood Grove. This land was beautiful and had so many rides that were great for the little ones. This was also home to the Dragonflier. The Dragonflier was the only roller coaster that I rode in the park. It was a very smooth ride and the concept was very unique. I am happy that I gave at least one ride a chance, but I don't think my stomach could have handled much more than that. Justin rode numerous rides throughout the park and raved about each and every one of them. He was definitely in his element and I loved seeing his excitement bubble over as he talked about each experience.
According to Justin, these are the 5 best rides that he was able to ride:
Wild Eagle
Mystery Mine
Tennessee Tornado
Dragonflier
Thunderhead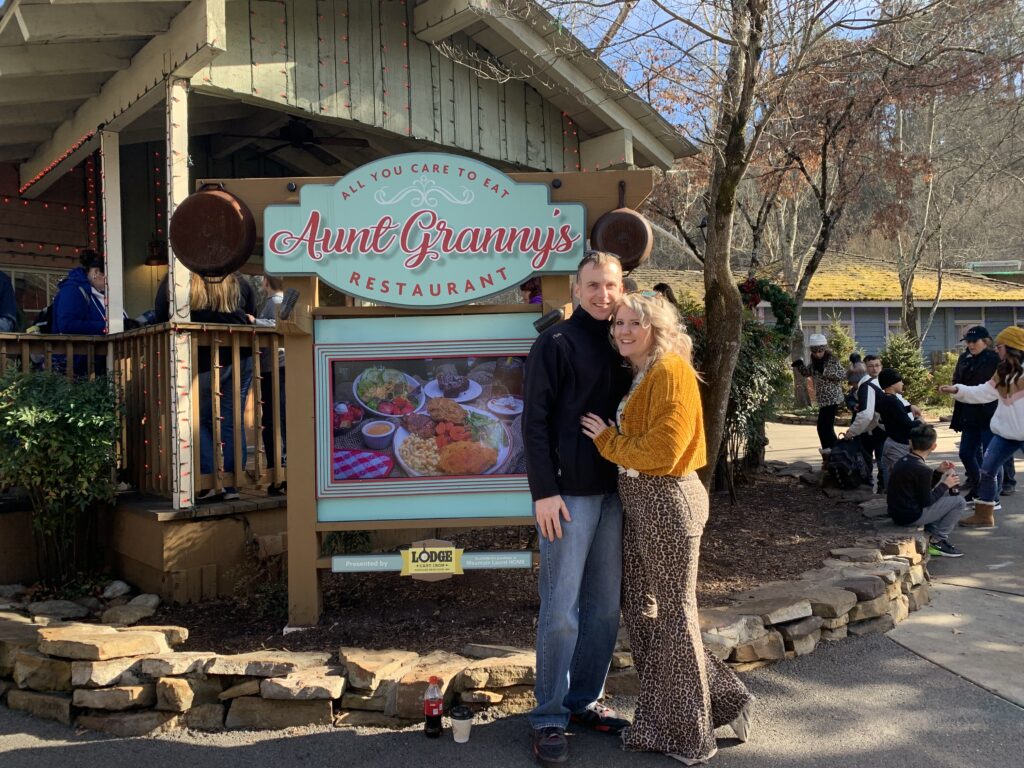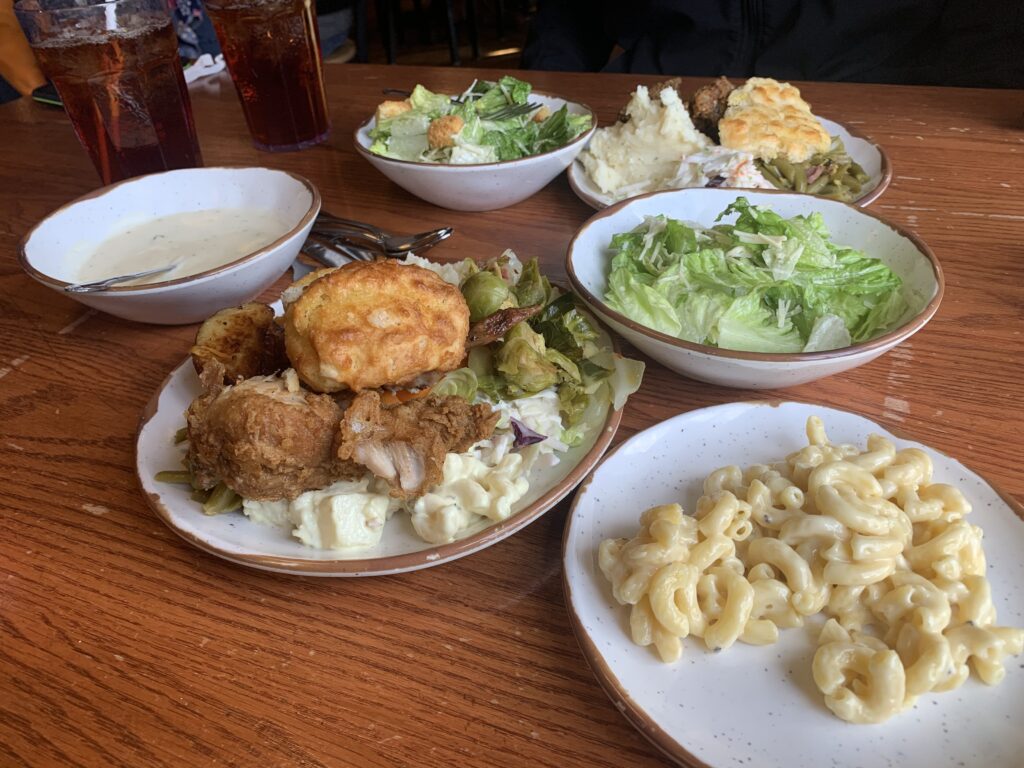 Southern Cuisine
One of the things that I was most excited about trying in Dollywood was the food. For me, food can make or break a theme park. The food in Dollywood was absolutely incredible. Each thing we ate was better than the last. I was stuffed when I left the the park and I would not have it any other way. We asked park employees for recommendations for lunch and it was a unanimous recommendation to eat at Aunt Granny's.
Aunt Granny's was an all-you-can-eat buffet that was absolutely amazing. Every single thing that that I ate was so flavorful. My favorite was probably the Creamy Vegetable Soup. This is the same soup that you can enjoy at Dolly's Stampede. It was the perfect thing to warm us up on the cold day. I could have sat eating all day, but there was so much more to see and do!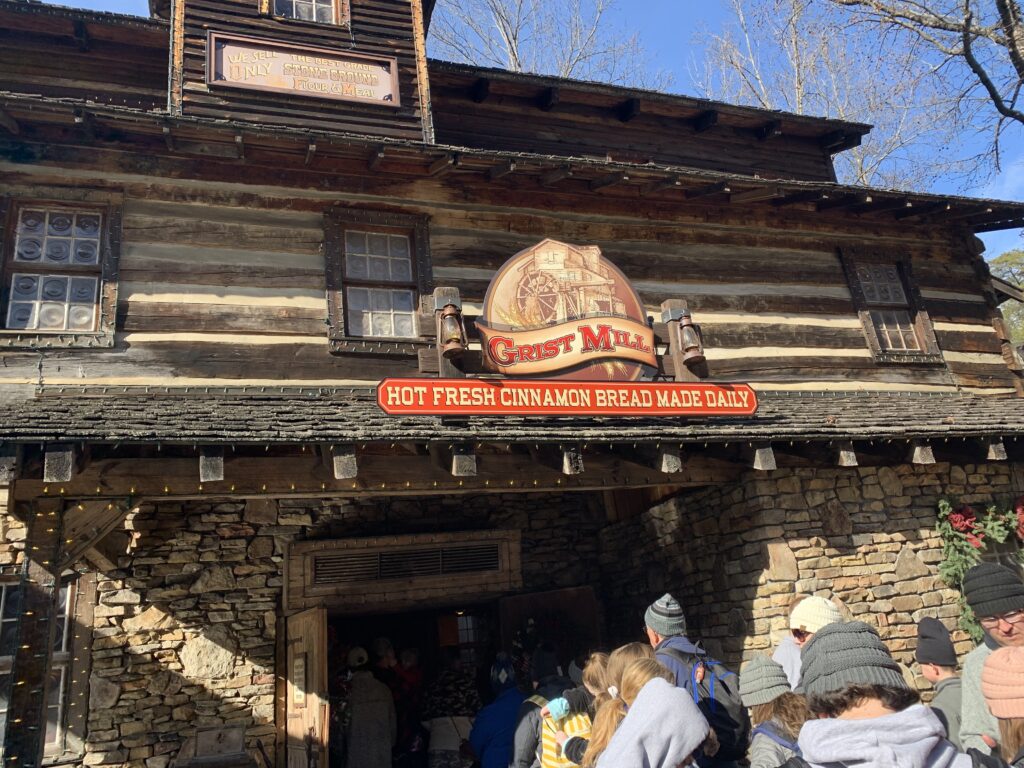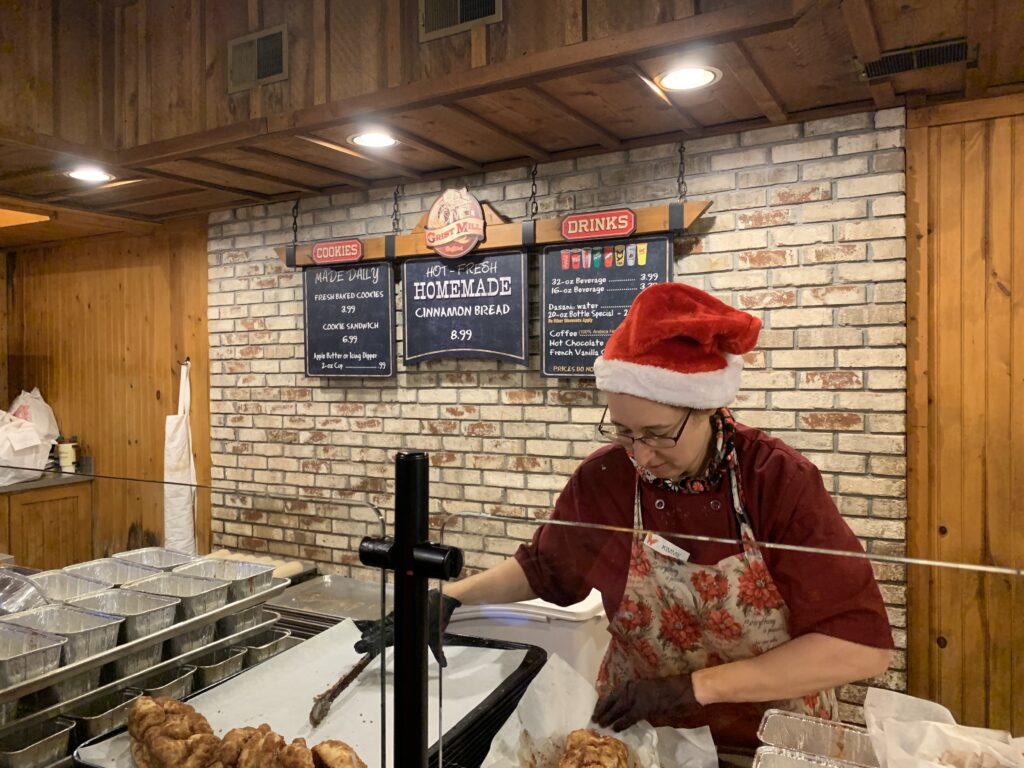 While we are on the subject of food, I need to take the time to talk about Dollywood's famous Cinnamon Bread. The line for the Grist Mill is probably longer than any ride at the park just to give you an idea on how good this bread taste. It is the number one seller, by a landslide, of anything in the park. They sell anywhere from 1400-2600 loaves per day. We hopped in the line pretty early that morning so we were able to get a loaf to share. Make sure to get the homemade icing and apple butter to try with your bread. We tried both! I thought about that bread all day, though, so I had to have more to take home with me. I let Justin go ride a few rides and I waited well over on hour for two more loaves to take home. If possible, it was even better the second time that I took a bite.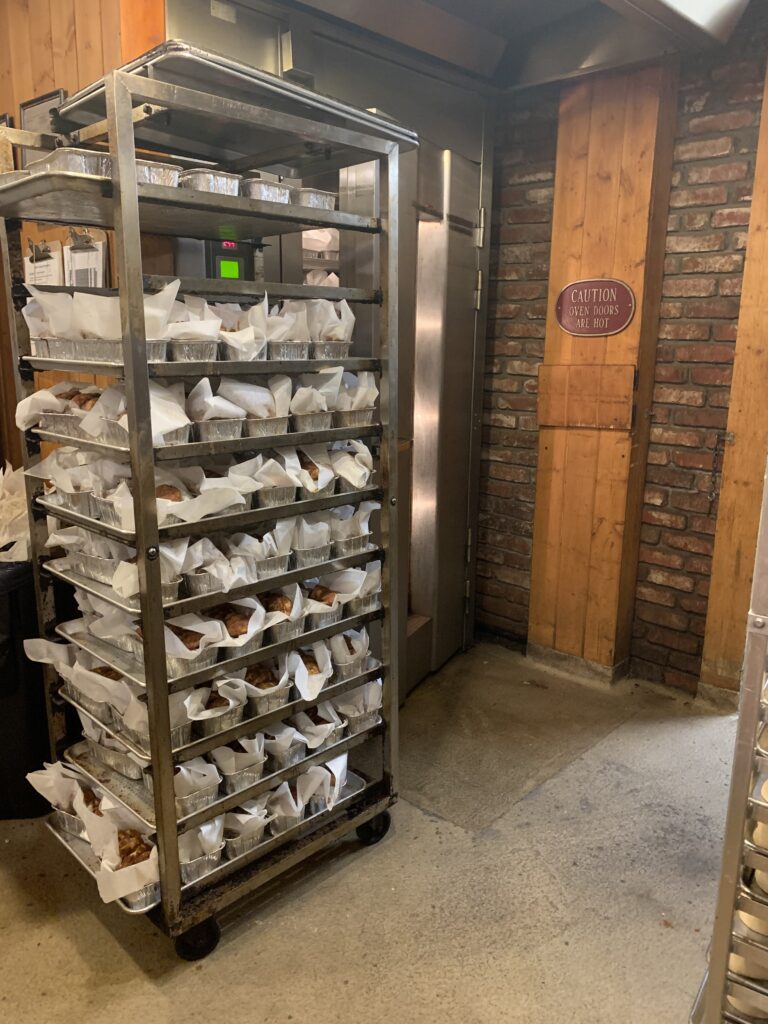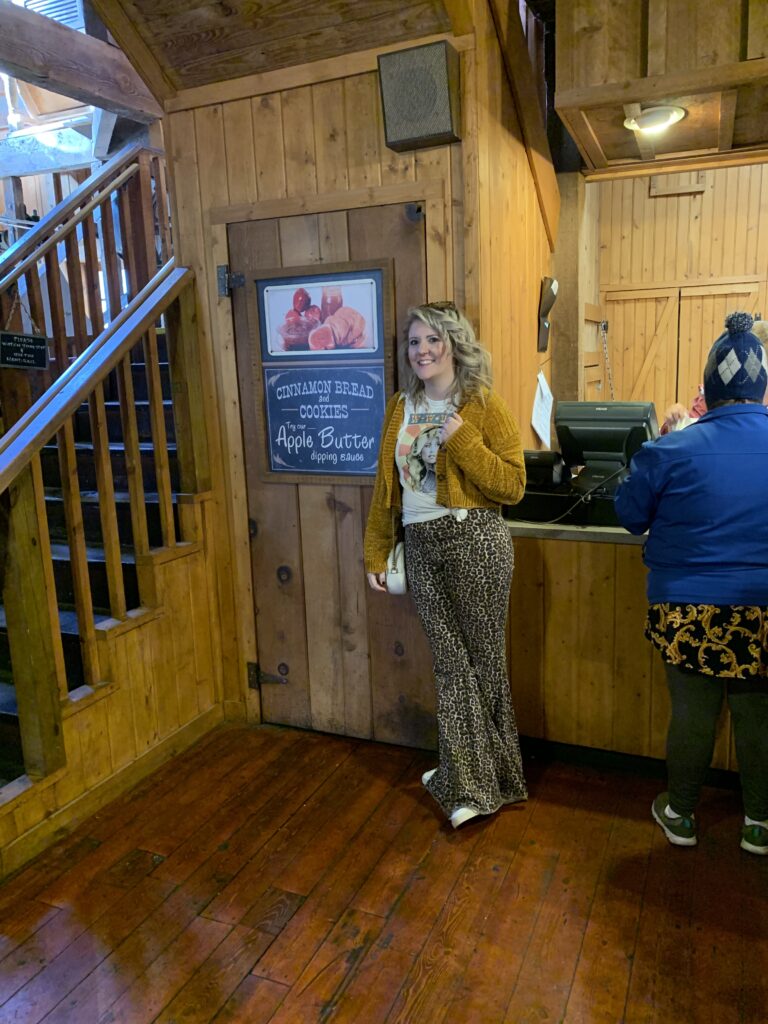 A Heart for Performing
While Justin and I were happy to be celebrating our anniversary, we did take some time and do our own thing. I know that riding all of the rollarcoasters was important to Justin so I was happy to find something to do so he could really be a kid. Luckily, Dollywood is full of shows and museums, perfect for anyone who loves a good show, or maybe just can't stomach another ride.
The show that I decided to watch was "My People, My Music." This performance was actually recommended by our waitress at lunch so I am glad that I was able to fit it into my day. If you are not familiar with this show, many of the performers are actually related to Dolly. They each have stories about this incredible woman, and add their own voice to her music. While Dolly was not actually present at the theater, she definitely still plays a part in the show. I enjoyed every minute of the show and it really gave me a new love for Dolly's story and her music.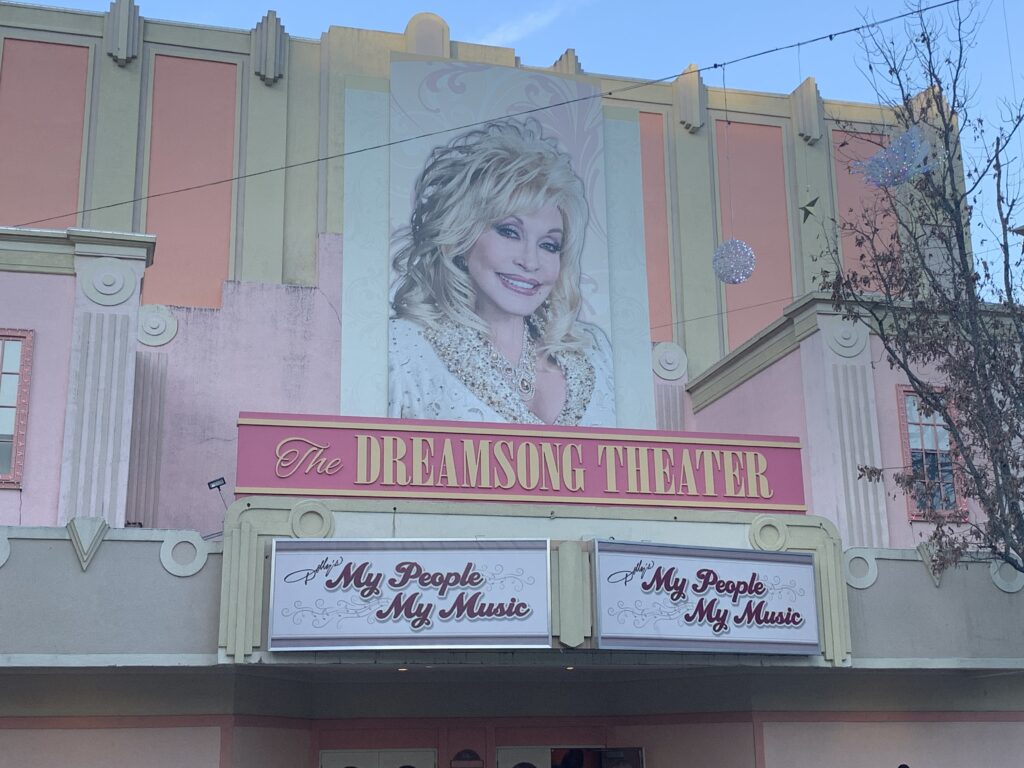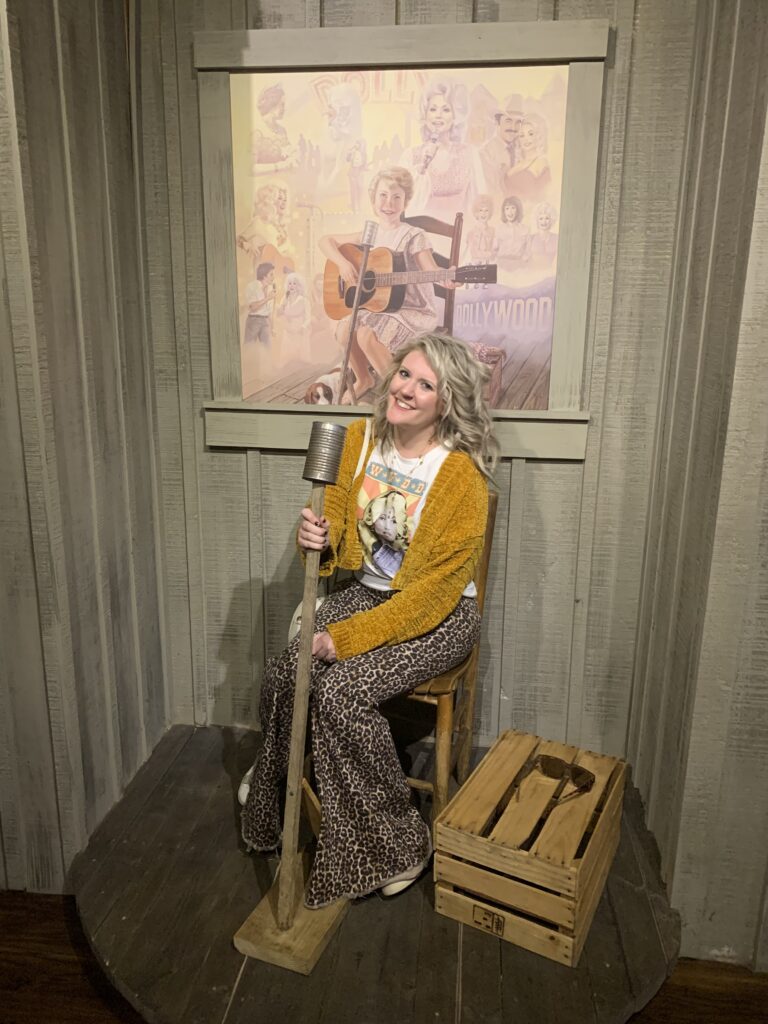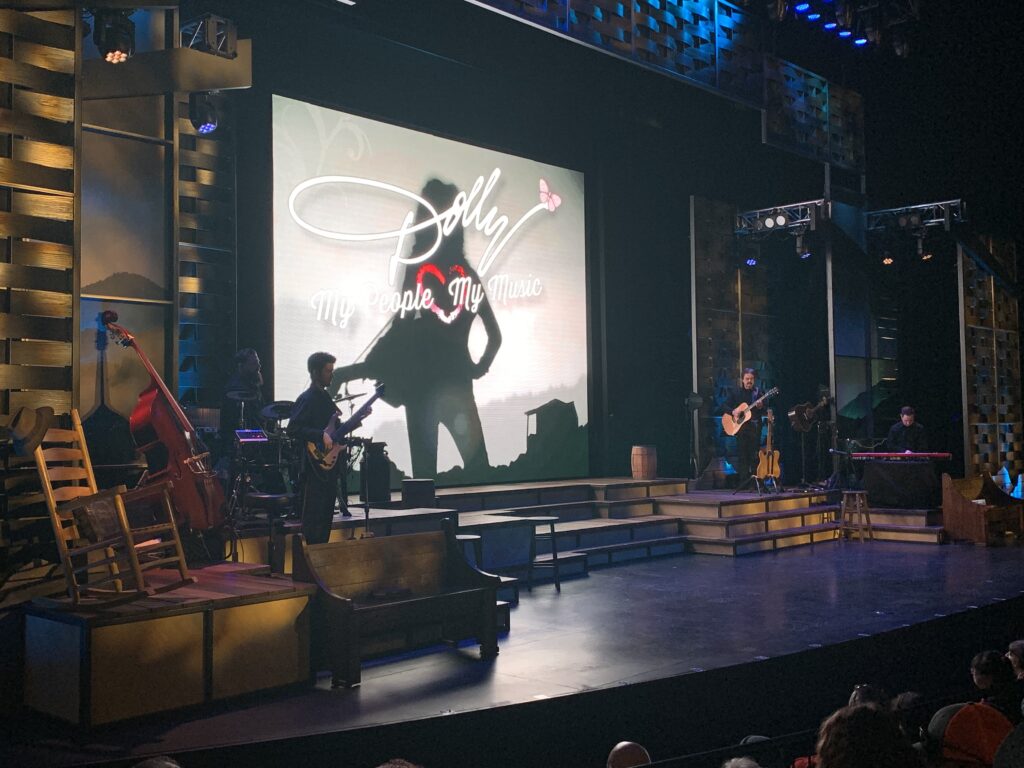 I also was able to pop into her museum, Chasing Rainbows. If you want to truly experience the life of Dolly then you have to visit the museum. Every award, costume, letter, and souvenir that you can imagine lines the walls of this massive building. So much history lies at Chasing Rainbows and it was amazing to see all the Dolly has overcome and accomplished in her life. I could have looked around for hours, taking in every little detail if time had allowed.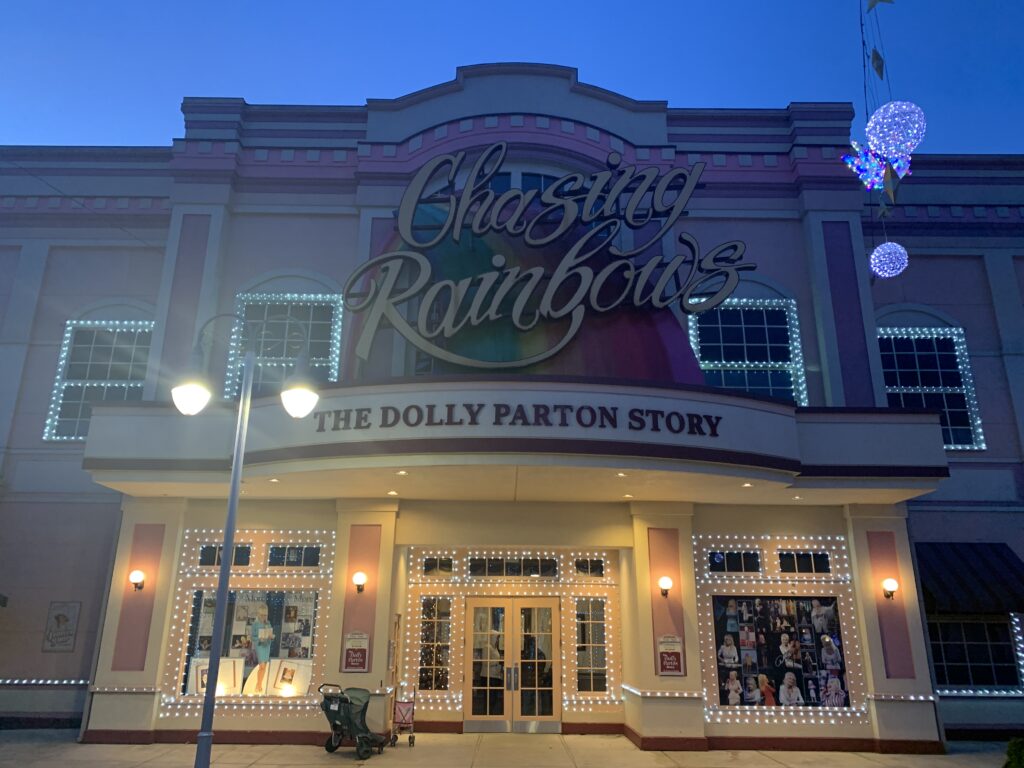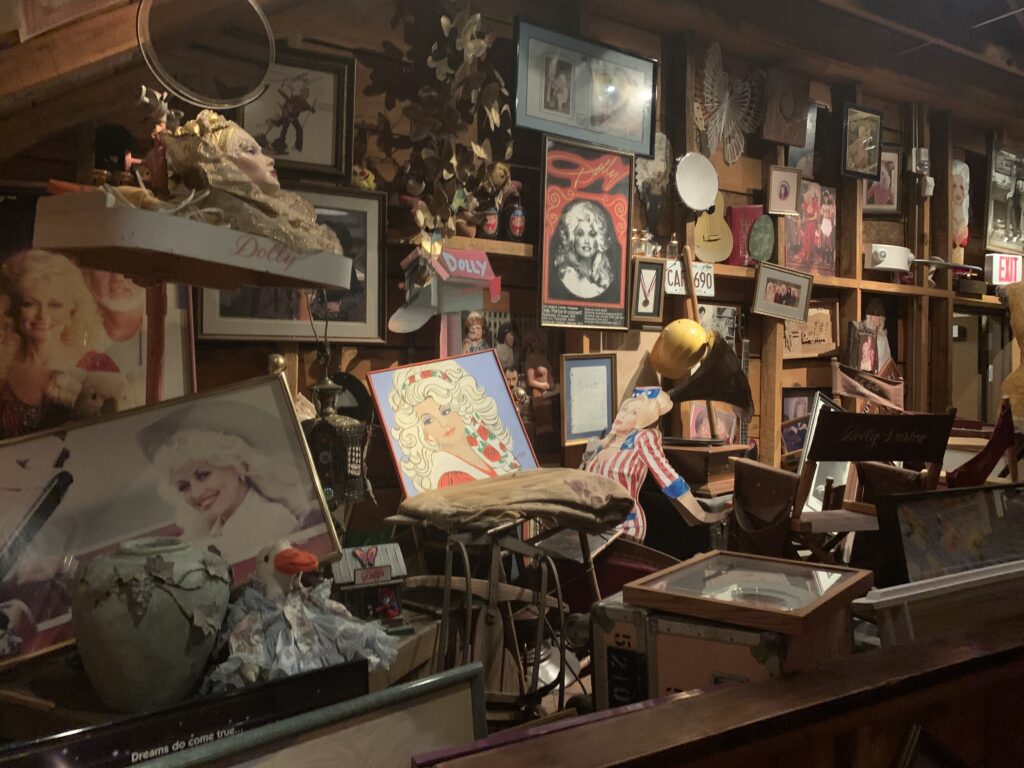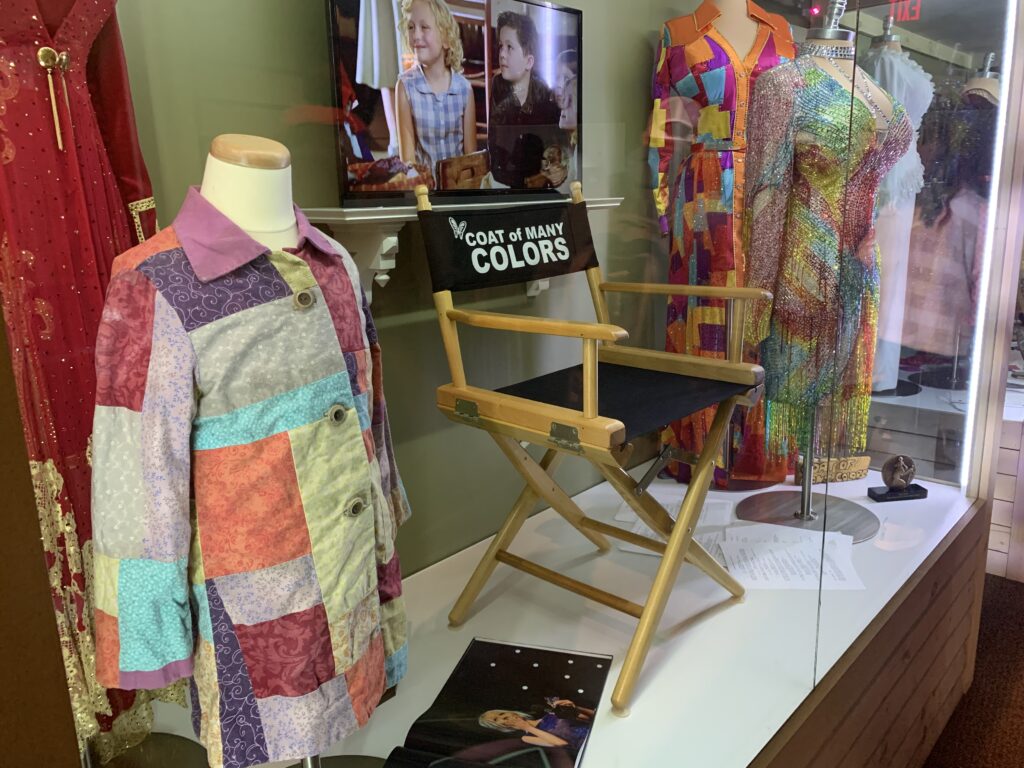 Final Thoughts
If you had told me this time last year that I would be celebrating my anniversary in Dollywood, I would not have believed you. It just was not a location that came to mind for a romantic day. Now, looking back, I feel like it was the perfect day. There are so many special touches around this magical theme park to help you just be with your significant other. Whether you are kissing under the mistletoe, snuggling up on the Dollywood Express, or simply posing for all the pictures, Dollywood is the perfect place to celebrate. Justin and I enjoyed ever minute of our experience and are so glad that we made the time to do that together.
Now, we just can't wait to bring back the kids!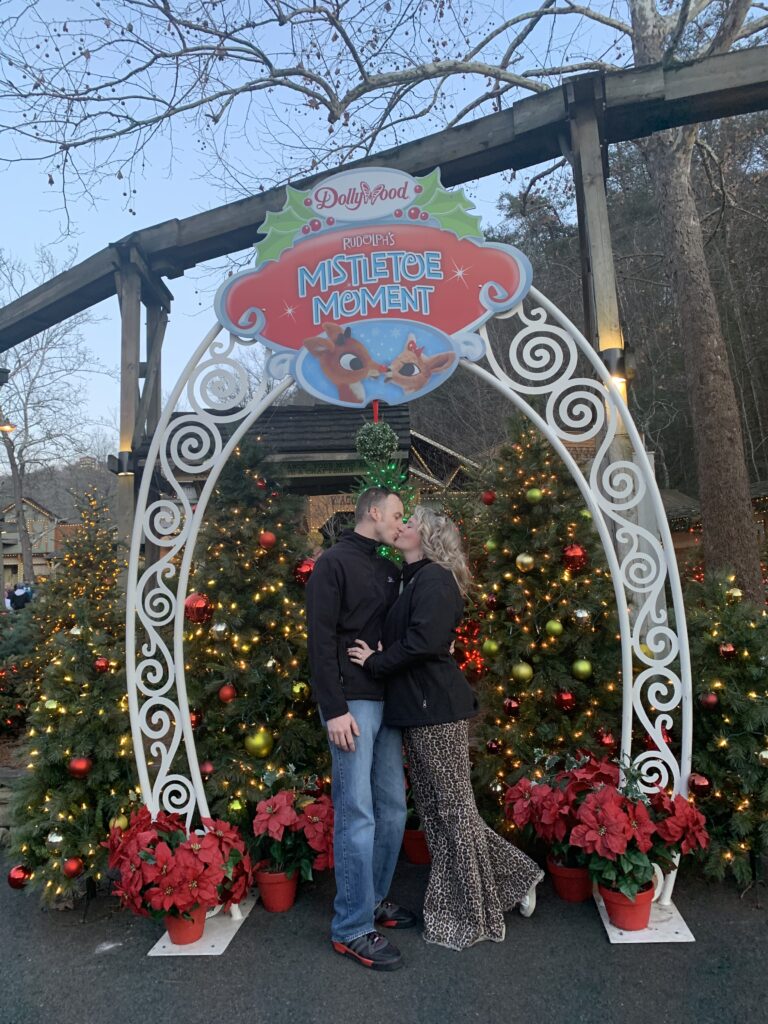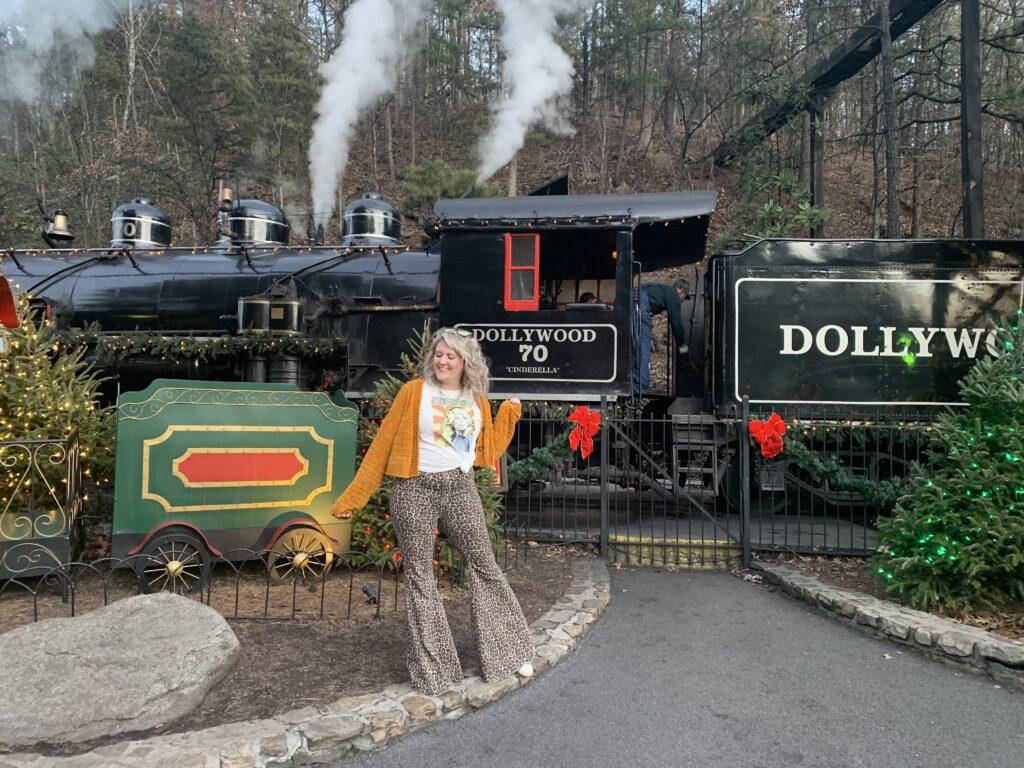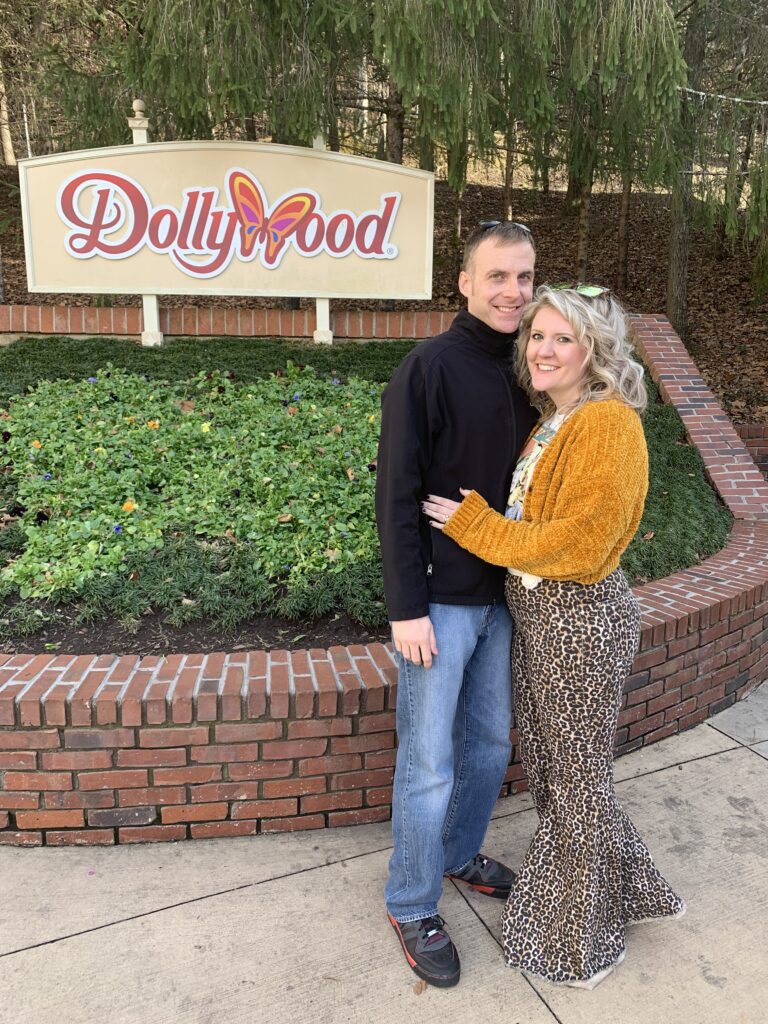 I hope you enjoyed reading all about our time in the park. A huge thank you to Dollywood for having us and helping us to make our anniversary one to remember.
What is your favorite thing about Dollywood? Have you been lucky enough to visit the park? Let me know! I always love to hear from you!
Park Outfit:
Cardigan | Tee | Pants | Shoes | Sunglasses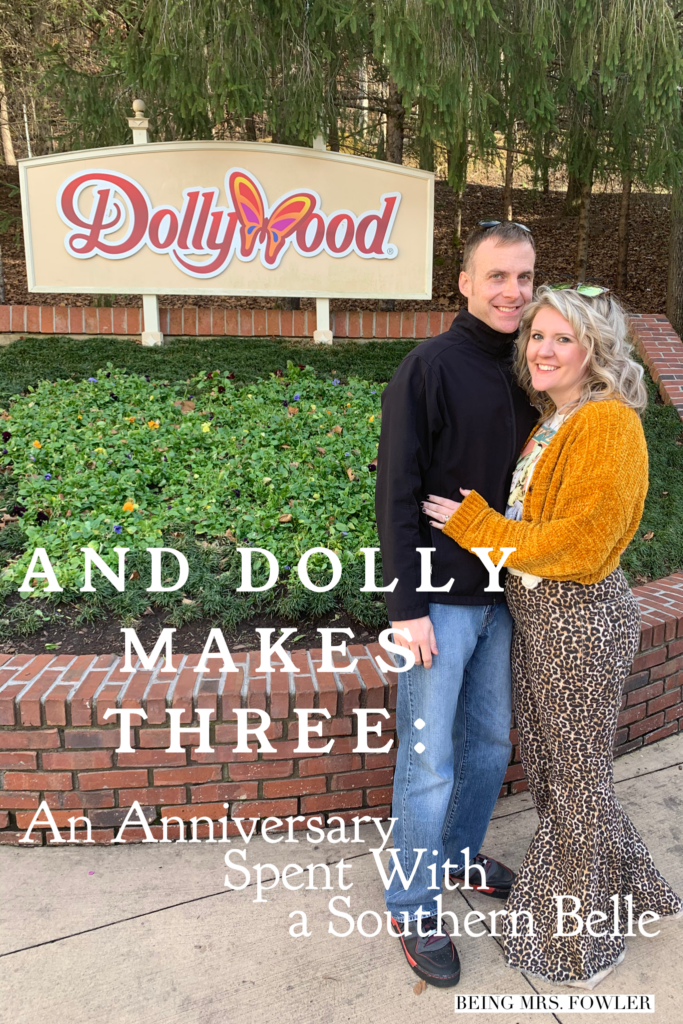 Disclaimer: I was compensated with two tickets to Dollywood in exchange for this post. All opinions are my own. Affiliate links are used and I may receive a small commission.

---