Travel has become a huge part of my families life lately. One of the places that we love to visit most is Gatlinburg and Pigeon Forge. There is so much to see a do and we are always finding something new to explore. I thought it would be great to compile all of our favorites into a guide to hopefully help other families as they plan out their next vacation.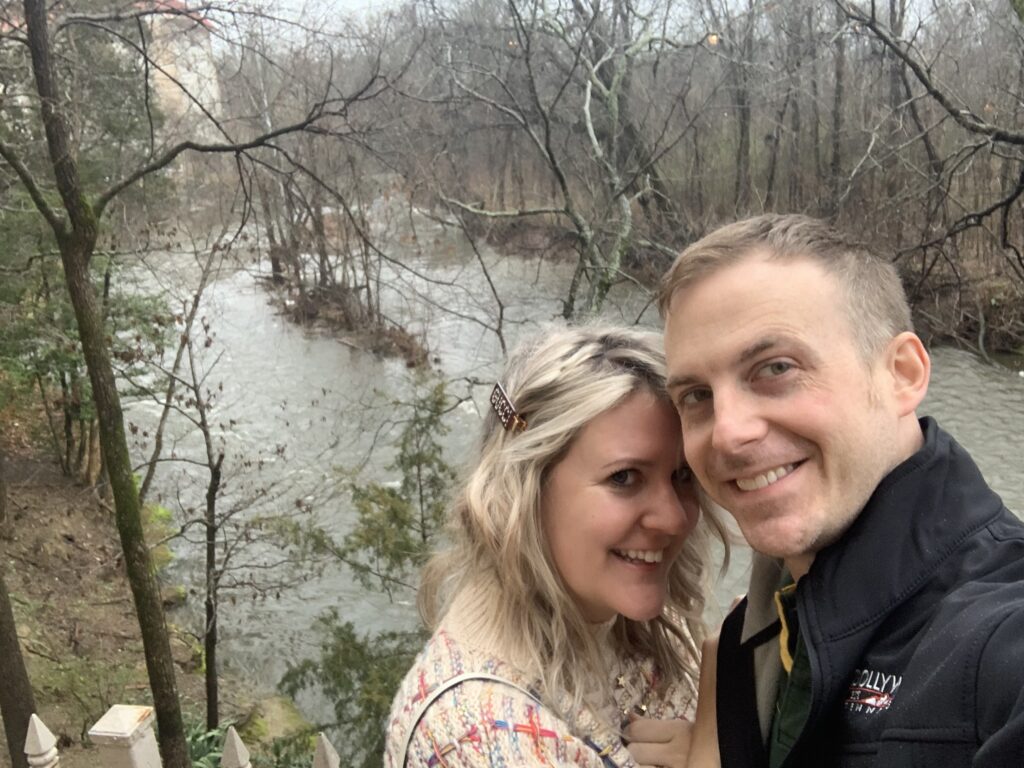 My husband loves that area so we try to go at least once a year. With all of our trips, we have built up a list of places that we love to visit on each trip. Whether it is a good meal or a great atmosphere, each of these places are always a must on our vacations.
We have spent time compiling this Gatlinburg and Pigeon Forge travel guide and have tried out many different places. Instead of keeping it to myself, I am going to share that list with you through a series of blog posts. I hope it will encourage you to add some of these places to your itinerary on your next vacation to the Smokey Mountains. Some will be obvious, but a few of them are hidden gems that I am happy to share.
Must Eats
What better place to start than with everyone's favorite: food. For our family, food is one of the most important parts of our vacations. Whether it is a signature snack, a local restaurant, or just some hole-in-the-wall that we happen to find, food is our foundation when we travel. No matter where we are going, the first thing I plan out is what we will be eating. Sometimes it is fun to try new places, but other times, you just have to stick to your favorites.
For this particular trip, Justin and made a list of all the places that we absolutely wanted to eat. We left a little room to try some new things, but for the most part, we already knew where we wanted to go. Here are the places that were essential to our Gatlinburg and Pigeon Forge travel guide. I absolutely recommend adding them to your list!
The Pancake Pantry
The Pancake Pantry is a must-do for breakfast when visiting the Smokies. You can find it right on the main strip in Gatlinburg. Make sure you arrive early because their is always a line out of the building. Believe me when I say that these will be the best pancakes that you have ever eaten! We always pick a day to arrive really early. We don't like having to wait, especially when it is cold outside. Make sure to bring cash! That is all that accept.
They are also only open for breakfast and lunch. For a tip on what to eat, my husband always order a classic breakfast of eggs, grits, bacon, and of course, pancakes. I personally like to mix it up and try different things. Some of my favorites are the Pigs in a Blanket, Caribbean Pancakes, and the Georgia Peach Crepes.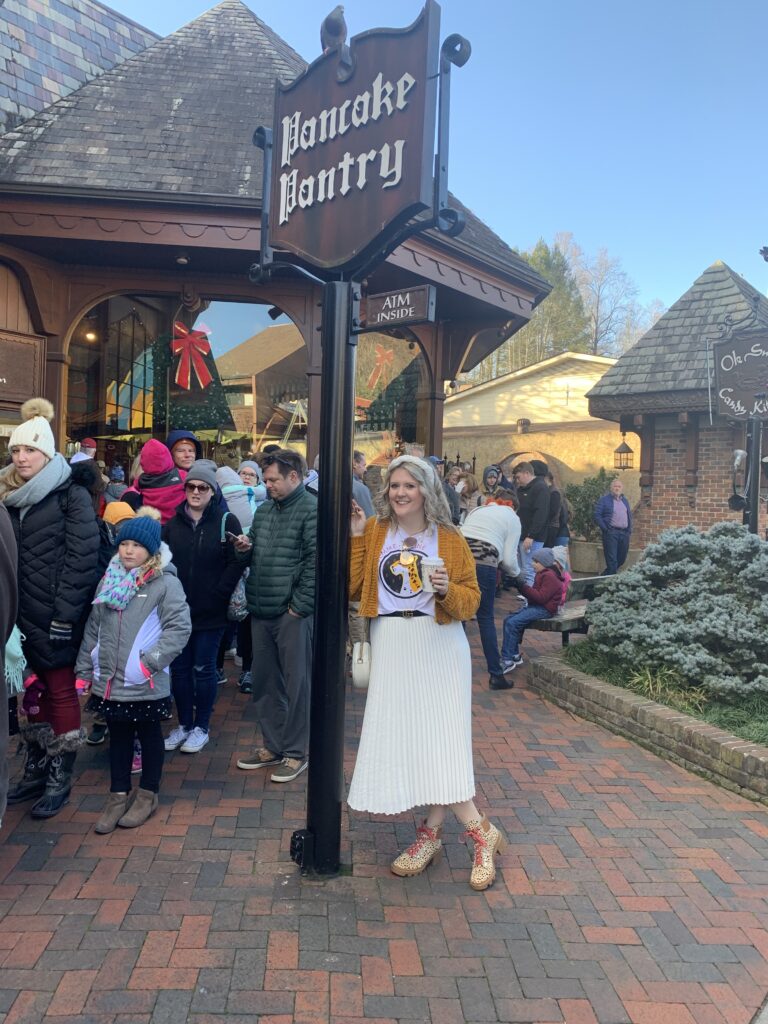 The Blue Moose
Blue Moose Burgers & Wings restaurant has recently become a favorite for my family. We stumbled upon it on one of our visits last year. It is located in the heart of Pigeon Forge and has the atmosphere of a sport's bar while still being family friendly. For one of my meals, I ordered the appetizer Pulled Pork Nachos. It was more than enough food for me and it was one of the best orders of nachos that I have ever eaten. My husband loves to order the boneless wings so we usually order both of our faves and split everything.
They also serve a great selection of local beers. My personal favorite that is always on tap is the Blackhorse Vanilla Cream Ale. It is so good! Make sure to check out Blue Moose for lunch or diner next time you are in town!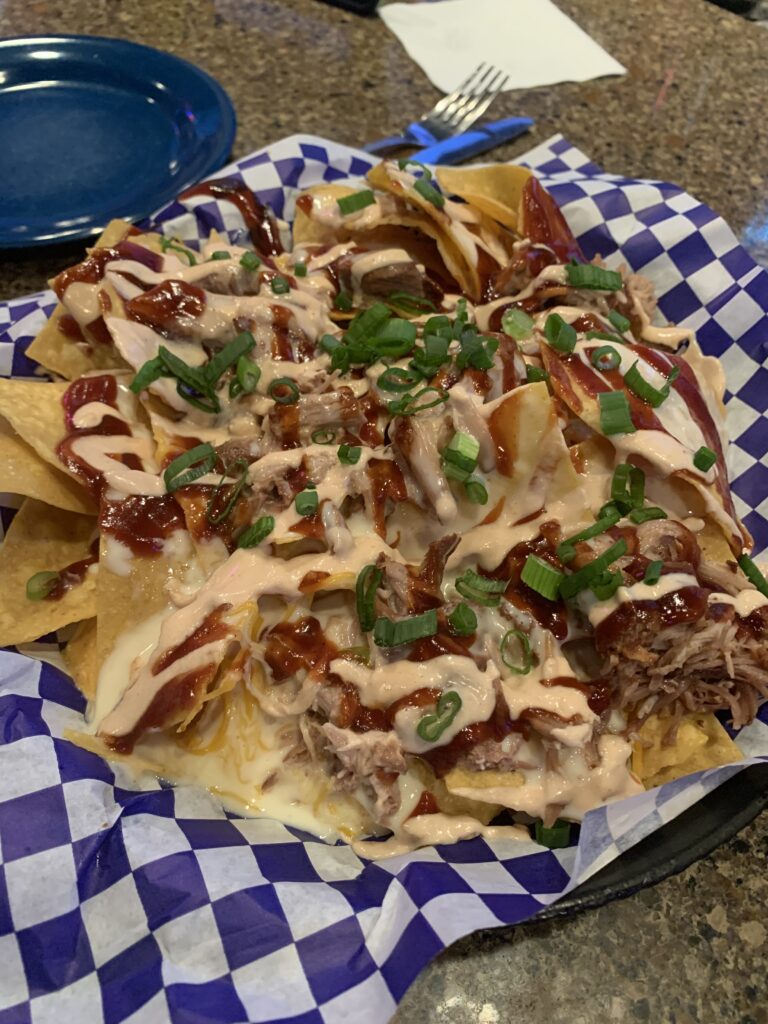 The Old Mill Restaurant
The Old Mill Restaurant is an absolute staple on any visit to the Smokies. Located in Pigeon Forge, this restaurant has been a must-do since 1830. They serve up large portions of southern favorites so be prepared to wait. Unless you get to the restaurant shortly after it opens, the average wait to eat is about an hour. After your first bite, you will see why people are willing to wait so long.
At the start of every meal, you are treated to homemade Corn Chowder and Corn Fritters. Both are amazing and the perfect introduction to the main course of your choice. We usually go for lunch and my absolute favorite is the pot roast. It is served with mashed potatoes and green beans and tastes just like my Granny used to make. For my husband, he usually goes with the meatloaf and consumes every bite on his plate. If you do not like eating a large lunch, Old Mill is open for breakfast, lunch, and dinner so there is plenty of time to eat this southern staple.
Aunt Granny's at Dollywood
Planning at trip to Dollywood on your next vacation to the Smokies? If so, I have just the restaurant for you. Aunt Granny's inside the park is some of the best food I have ever eaten. It was recommended by every employee that I talked to and after the first bite, I knew why. This restaurant is a full buffet of incredible food, each bite better than the last. There really is something for everyone on the buffet. I really enjoyed the baked chicken, but my personal favorite was the creamy vegetable soup. You can also find this soup at Dolly's Stampede. This restaurant is now a must whenever we have the opportunity to visit Dollywood.
Smokey Mountain Brewery
What to check out a great family restaurant that serves its own craft beer? Look no further than Smokey Mountain Brewery. This local favorite serves up American classics with a side of craft beer. They have a location in Pigeon Forge (our favorite) and one on the main strip in Gatlinburg. Smokey Mountain Brewery is my husband's absolute favorite place to visit and we usually have to go twice on our trips. The craft beer is what really makes this spot so special. Our personal favorite is Mountain Light but they have quite a few options to appeal to different palates.
One of the great things about Smokey Mountain Brewery is you can buy their beers to take home. You can purchase 6-pack bottles, growlers, and mini-kegs at both of their locations. We love all of the food but our personal faves are the burgers and pizza. You just can't go wrong with either of those choices!
Mel's Diner
Mel's Diner is probably our newest restaurant to add to our list of favorites. We visited on our most recent trip and instantly fell in love. They perfectly nail down the diner atmosphere and every thing on the menu is amazing. They also have great price points so you can feed the whole family at a great price.
Since we have only been one time, I can only tell you what we ordered, but both of our selections were incredible. Justin got the meatloaf and said that it was the best that he had ever eaten. I got a foot long chili cheese hotdog, complete with slaw, and homemade chips. You can believe that I finished every bite. Justin and I also shared a milkshake, which is a MUST when you visit! Let me know what you try if you decided to visit. I would love to know about other choices on the menu!
Local Goat
If you want to try somewhere that is an amazing local hangout, look no further than Local Goat. This amazing New American restaurant features a scratch-made kitchen specializing in locally-sourced and sustainable menu items. Local Goat offers a wide array of appetizers, jumbo wings, awesome salads, hearty steaks, chops, fall-off-the-bone ribs and outstanding desserts. We always start off our meals with the Cheese Fondue appetizer. The cheese and pretzel bites literally melt in your mouth. If you run out of "dippers" they will happily bring you more!
For a main course, I highly recommend Fettuccini Rocco. It is one of the best pasta dishes that I have ever eaten. Local Goat is located in the heart of Pigeon Forge and is always busy. Make sure to arrive early to decrease your wait time. They are open for lunch and dinner so you have some options to fit it in to your vacation itinerary.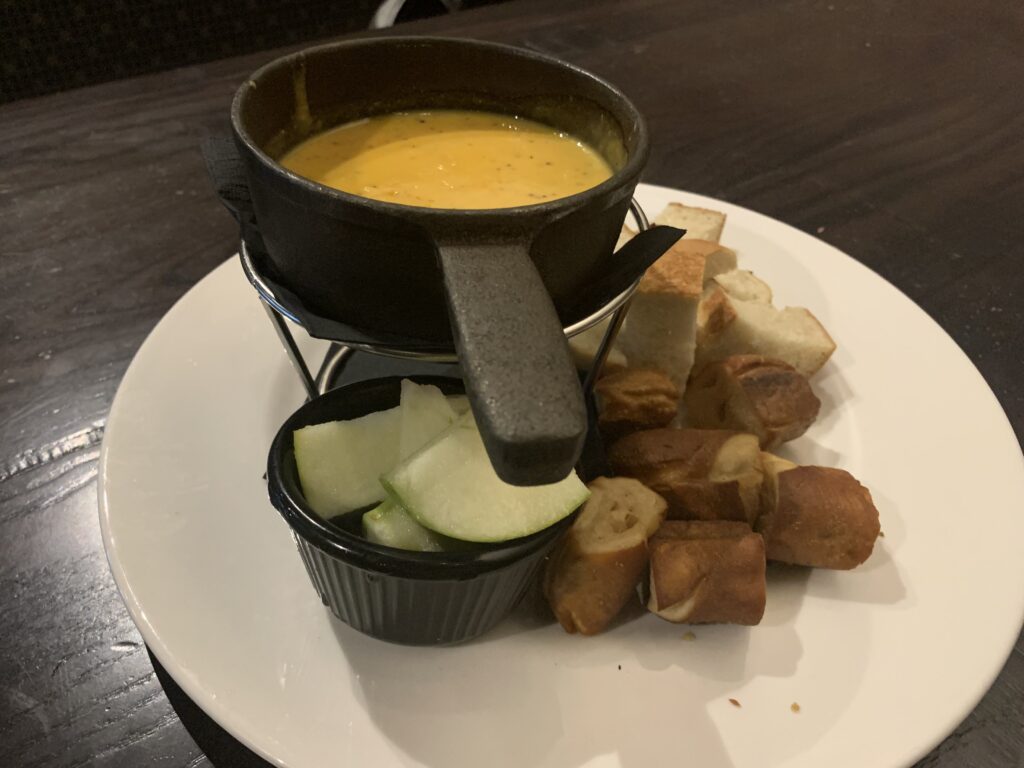 The Donut Friar
Need a quick breakfast or a yummy snack? I strongly encourage you to check out The Donut Friar in Gatlinburg. Found in The Village Shops, this is one of our absolute favorite places to visit on our trips. All of the donuts are pastries are made fresh daily and you can enjoy them as early as 5am! Make sure to get there as soon as soon possible, once they are sold out for the day, you are out of luck until the next day. Some of our favorites include the cinnamon bread, the apple fritters, and the eclairs. I highly encourage you to get some for now and for later. One Donut Friar treat is never enough.
Shop Till You Drop
For my family, shopping is something that we love to do on vacation. We love finding local shops, unique souvenirs, and cute toys for the kids. There is just something about shopping on vacation that just doesn't make you feel guilty about spending money. For our Gatlinburg and Pigeon Forge travel guide we included all the places that we love to hit up whenever we are in town. Most of them are local to the area so don't miss out on them!
The Mountain Mall
This "mall" is classic Gatlinburg at its finest. My husband recalls visiting the mall when he was a child and I have to say, I don't think it has changed much since then. When you walk in, you will not find your large chains. Instead, you will fine nothing but small businesses selling unique items and souvenirs. Each shop has a unique theme, so there really is something for everyone. Whether you are shopping for hot sauce, picking out a toy for the kids, or adding a great band tee to your collection, The Mountain Mall is definitely somewhere you want to check out.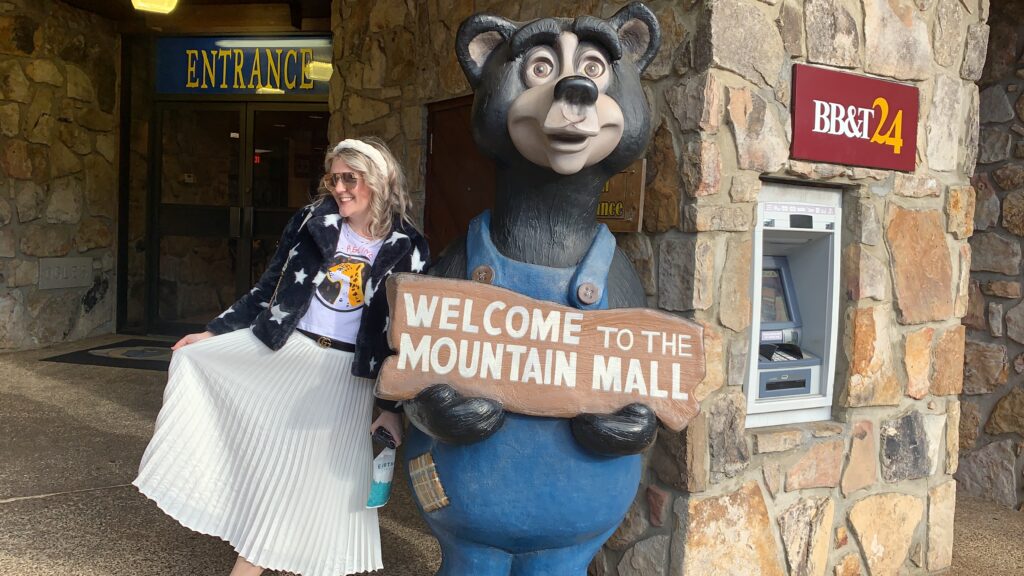 Tanger Outlets in Seiverville
If you are wanting to shop at more of your basic chain stores, you definitely need to check out the Tanger Outlets in Seiverville. Located just a few minutes from Pigeon Forge, this is the home of stores like Adidas, Coach, Old Navy and Tory Burch. They have a few restaurants, as well as a Starbucks, so you can enjoy a meal or snack while you shop. I personally love that they have a Disney Outlet, and I always find great deals at Kate Spade and Tory Burch. Come early! The outlets do tend to get busy fast!
French's Shoes and Boots
If I could only visit one store when I came to the Smokies, it would most definitely be French's Shoes and Boots. Rows and rows of gorgeous leather boots fill the shelves of this Pigeon Forge store. They truly do have the best prices on boots. With brands like Ariat, Justin, Laredo, and Redneck Riviera, it is worth taking a peek inside. Whether you actually take a pair home with you, or just enjoy the smell of the leather, I can promise that you will enjoy a visit to French's Boots.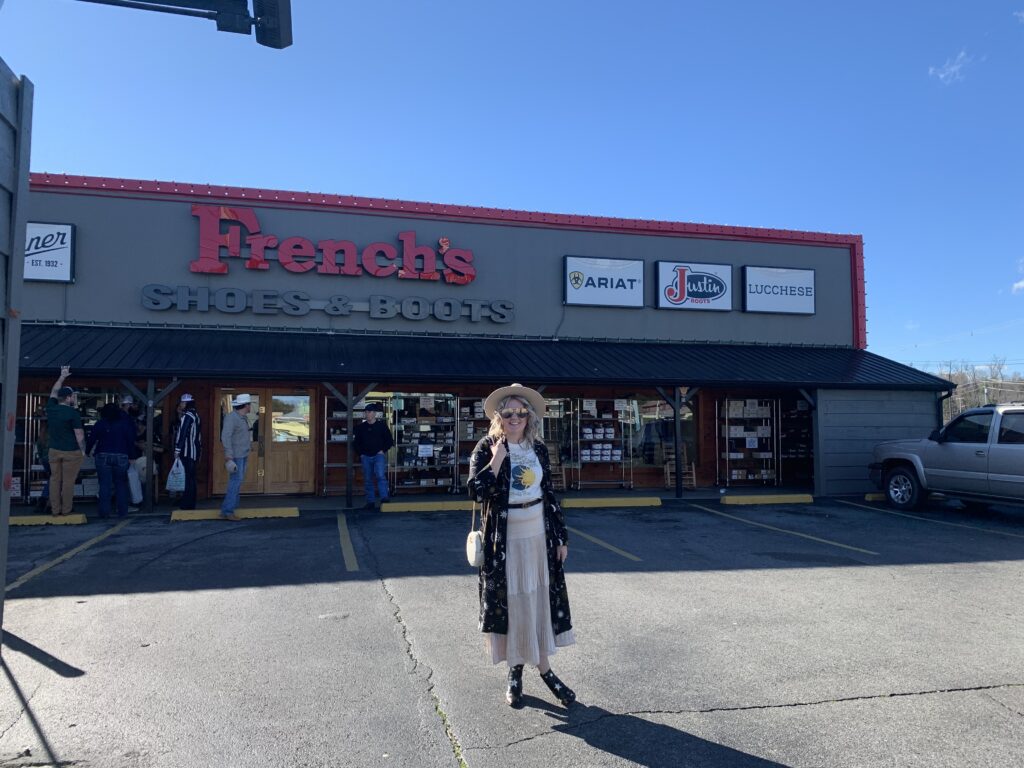 Music Outlet of the Smokies
While my husband has visited numerous times, this trip was the first time I had the pleasure of visiting Music Outlet of the Smokies. Growing up around music I have always loved checking out guitars. If you are like me, you need to make it a point to check them out. You can usually hear someone strumming a tune. If not, and you can play, pick one up and try them out yourself! Justin does like to play so we loaded up on picks and strings while we were visiting. They have great prices and we were supporting local!
Must Do
For our family, we always love to find something fun to do while we are on vacation. Whether it be an arcade, miniature golf, or even a museum, we want a day of simple fun. Gatlinburg and Pigeon Forge are PACKED with fun outings for families. I could probably fill up post after post with all that there is to offer. Instead, I will just focus on our family favorites in this Gatlinburg and Pigeon Forge travel guide and hopefully you will try out a few for yourself.
Fannie Farkle's
Located right on the strip in the heart of Gatlinburg, Fannie Farkle's has truly stood the test of time. This arcade has been a favorite of my husbands since he was a child. Having been on the strip for 40 years, it is a favorite of many visiting the area. While people are first drawn in by the arcade lights, you cannot leave without trying an Ogle Dog. An Ogle Dog is a foot long corn dog that is so good, you definitely don't need any mustard. We get one on every visit and it never disappoints. Not a corn dog fan? No problem! Grab a Cheesesteak or Sausage Sub with Farkle Sauce and you are sure to be back for more.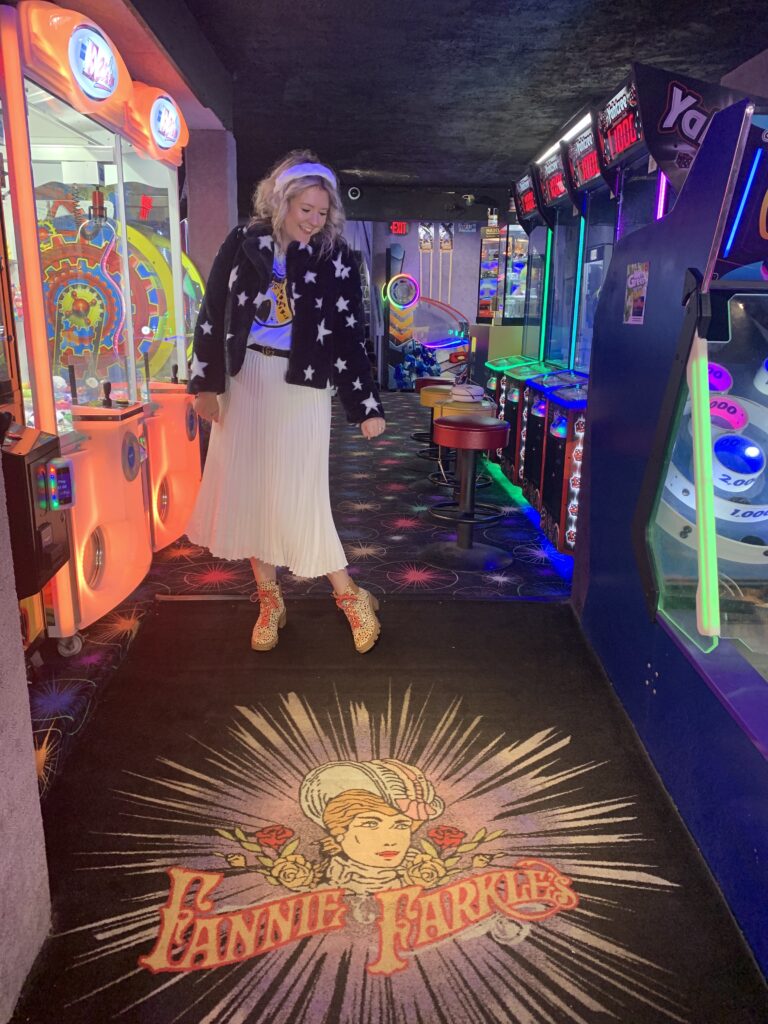 The Great Smoky Mountain Wheel
I could probably write an entire blog post on The Island in Pigeon Forge. This amazing destination in Pigeon Forge is FULL of amazing restaurants like Margaritaville and Paula Deen's Family Kitchen, and quick snacks like The Island Creamery and Poynor Pommes Frites. There is tons of shopping and quite a few places to sample wine and moonshine. The best part, though, is definitely all of the games and rides. There is a ropes course, an arcade, an escape room, and, our personal favorite, The Great Smoky Mountain Wheel.
Towering 200-feet tall, The Great Smoky Mountain Wheel is the centerpiece to The Island in Pigeon Forge, it stands as one of the tallest attractions in the Southeast. The Wheel provides riders an amazing view of the world-famous Smoky Mountains in comfortable, all-glass gondolas that seat up to 8 guests. It is a must-do on your next vacation!
Dollywood
We are a huge theme park family so we love visiting Dollywood! Make sure to check out my full post on Dollywood! I give a lot of great tips and recommendations for tackling the park!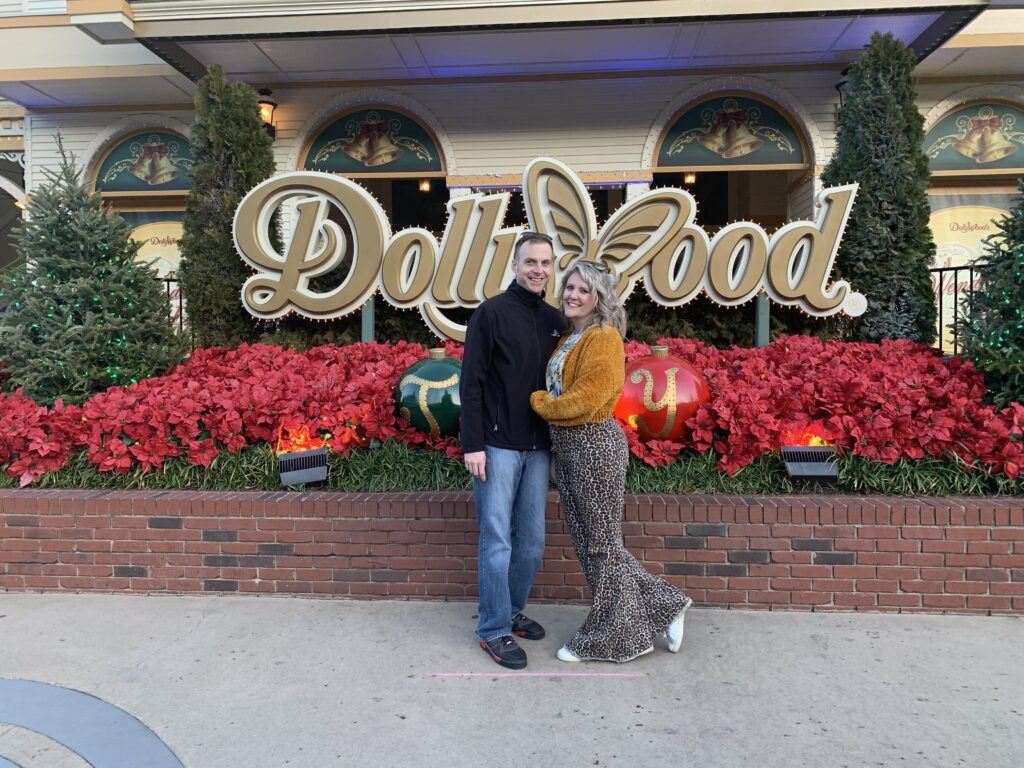 Beyond the Lens
We always love finding a fun museum or show to visit on our trips. Recently we attended Beyond the Lens and had SO much fun. Everything is completely interactive and it really is fun for the whole family. I loved all of the photo opportunities and Justin loved playing all of the games. We took tons of pictures so make sure to head to my Instagram to check out my post on the attraction. I highly recommend that you check out this attraction when you are in the area. Make sure to bring your phones and download the app before you visit. It will make your time even more enjoyable!
Ripley's Aquarium
Growing up, I always loved a good aquarium more than a zoo. It was probably because of the air conditioning, but I like to think that watching the fish swim is just relaxing. One of our favorite aquarium's to visit is Ripley's Aquarium of the Smokies. This aquarium has been named one of the best aquariums in the United States. That alone is reason enough to attend on your next visit. If that is not enough, features like Penguin Playhouse, Stingray Bay, and Shark Lagoon are sure to keep you entertained. Check it out and see for yourself. I know it will be a hit on your vacation!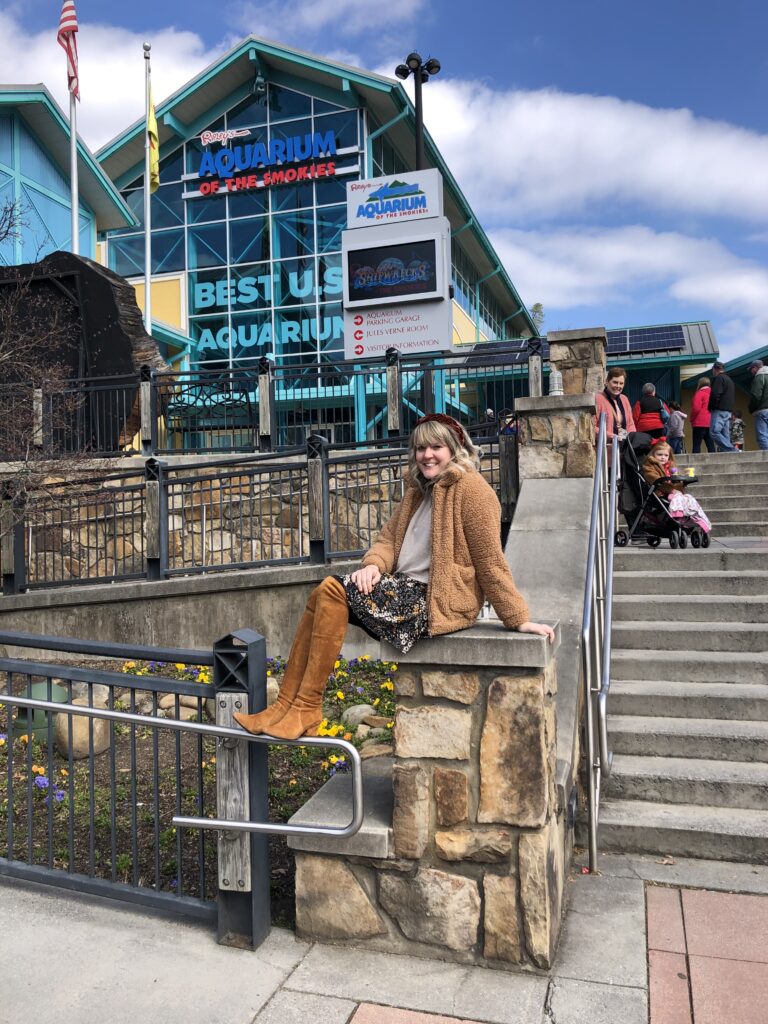 SkyLift Park
Want to know the best way to view the Smokies? That would most defintiely be the Gatlinburg SkyLift Park. The SkyLift may be one of the oldest attractions in Gatlinburg, but it is also one of the most loved. Take a chair lift to the top of the mountain and see the beauty of the mountains. Once you get to the top, there is the SkyCenter, a snack bar and gift shop, as well as plenty of seating on the SkyDeck to just relax. When you get to the top, you can also enjoy the SkyBridge. This brand new attraction to SkyLift park is the longest pedestrian suspension bridge in North America. It is an amazing experience and even has a glass section in the middle. Trust me when I say that you MUST do all that SkyLift Park has to offer on your next visit.
Ober Gatlinburg
One of the great things about visiting the Gatlinburg and Pigeon Forge area is that you have the chance to hit the slopes. To do this, you will need to head to the top attraction of the Smoky Mountains, Ober Gatlinburg. A true travel guide to Gatlinburg and Pigeon Forge MUST include this attraction. While the option to ski or snow tube is a definite plus of Ober, there is so much more to do!
If you decide to visit, definitely take the Tram to the top. It gives you an amazing view of Gatlinburg. Once you make it to the top, you can ski, snowtube, ice skate, or just take in the view at the bar. If you are visiting in the spring or summer, make sure to check out the Amaze'N Maze, the Alpine Slide and the Mountain Coaster. There is also an arcade, kiddie land with rides, and the absolute best views of Gatlinburg! Ober is a must do on any trip to the Smokys!
All the Wine
Let's be honest for a minute. One of the main things that I look forward to on my trips to the mountains is all the wineries. I will fill my wine fridge with all the we bring home and it is the souvenir that keeps on giving. What I love is that all of the wineries allow you to taste a certain amount. It is great because you get to try out new flavors and brands. I have found my absolute favorite wine sampling in the Smokies and I make sure to bring plenty home with me. I would be crazy not to include wineries in my Gatlinburg and Pigeon Forge travel guide so make sure to try some of them out!
Smoky Mountain Winery
If you are looking for a great wine when visiting Gatlinburg, look no further than Smoky Mountain Winery. This winery is the oldest winery in East Tennessee and is home to more than 20 unique, premium wines made with local ingredients. From Peach to Muscadine, wine lovers of all tastes will enjoy sampling the varieties of locally grown and produced vintages offered in the complimentary Tasting Room. Besides the amazing flavors, Smoky Mountain Winery has some of the BEST prices. It is definitely the place to get the most for your money.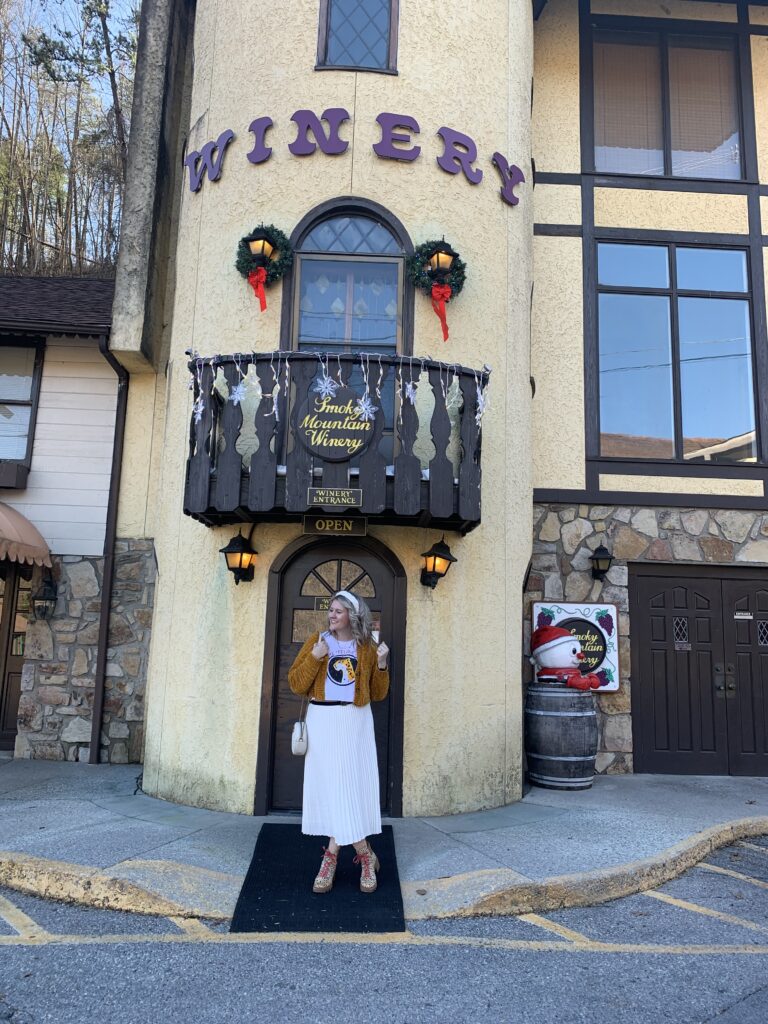 Ole Smoky Moonshine
Not technically wine, but Ole Smoky Moonshine is a MUST when visiting the Gatlinburg area. I am sure you have seen it on the shelf of your favorite liquor store, but nothing beats sampling it in an actual location. For just $5, you can taste almost every flavor of moonshine and usually can try a cherry or pickle. I personally love the Moonshine Pickles. They are the perfect addition to a Bloody Mary! After sampling, you get your money back in the form of a $5 coupon to use in the store. We have never let our coupons go to waste and always come home with a new flavor to try. With so many moonshine flavors to try, you are sure to find one you can add to your favorite mixed drink, coffee, or even ice cream. Of course, you can always enjoy them straight! This is MUST when visting the area and I am sure you will find it on almost any Gatlinburg and Pigeon Forge travel guide!
Gatlinburg Wine Celler
On one of our trips, I couldn't help but notice a bright pink sign reading "Cotton Candy Wine" while walking the main strip in Gatlinburg. I immediately went inside to check it out. This was the first time that I tried out Gatlinburg Wine Celler and I immediately fell in love. That Cotton Candy Wine was advertised all over the windows and I had to try. It is their number one seller and taste exactly like Cotton Candy grapes. I stock up every visit and bring MULTIPLE bottles home. Make sure to check it out, especially if you love a good, sweet wine! They offer free tastings every day of the week!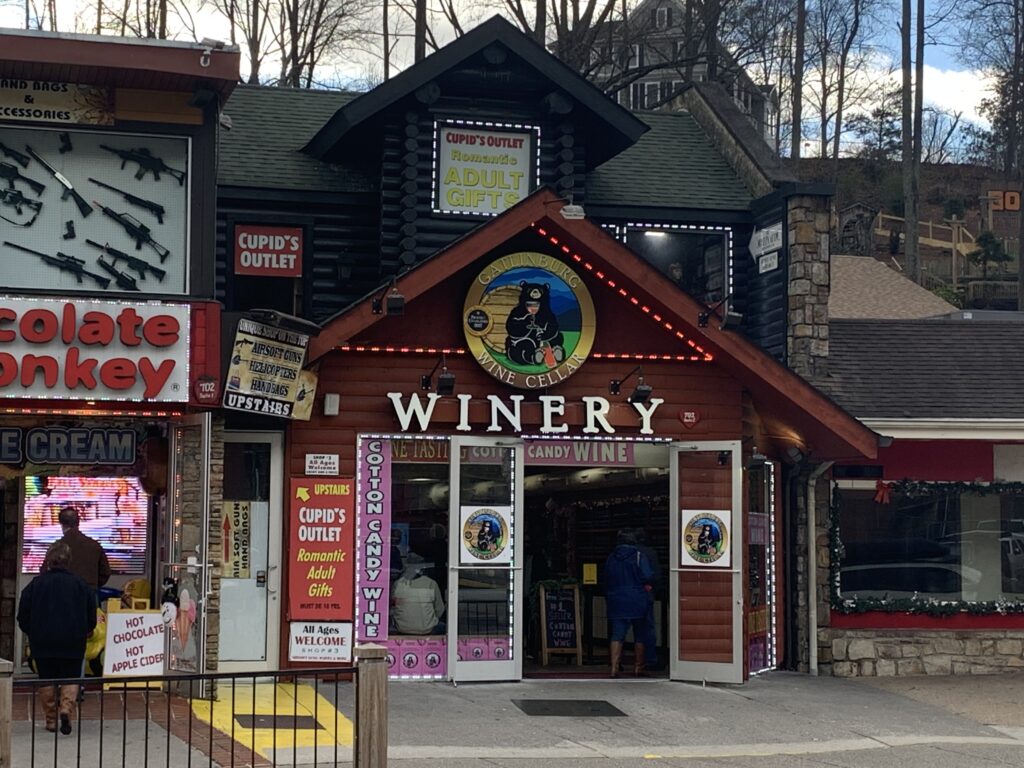 Tennessee Cider Company
One of the newest additions to the Gatlinburg strip is Tennessee Cider Company. This up and coming business specializes in hard cider and taste just as good as it sounds. With flavors like Golden Apple, Caramel Apple, and even Pumpkin Spice, there is literally something for everyone. With so many wine and moonshine stores on the strip, it is nice to have a good hard cider to add to the mix. They also offer free tastings so I strongly encourage you to stop by and enjoy a sip!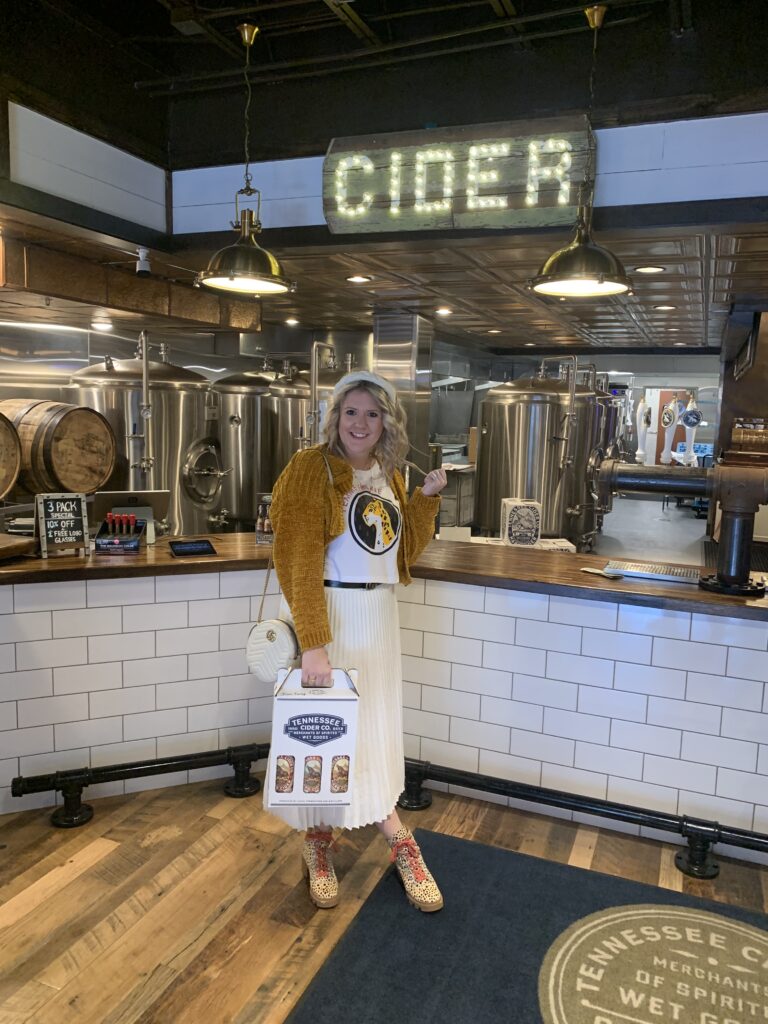 I hope that this Gatlinburg and Pigeon Forge travel guide is beneficial in helping you plan your next trip. I am by no means an expert, but I really do love the area. Let me know if you try out some of the places I included. I would also love to hear your recommendations on places to add to our list.
Whether your are eating, shopping, or even drinking some wine, I hope that you enjoy your visit to the Smokies!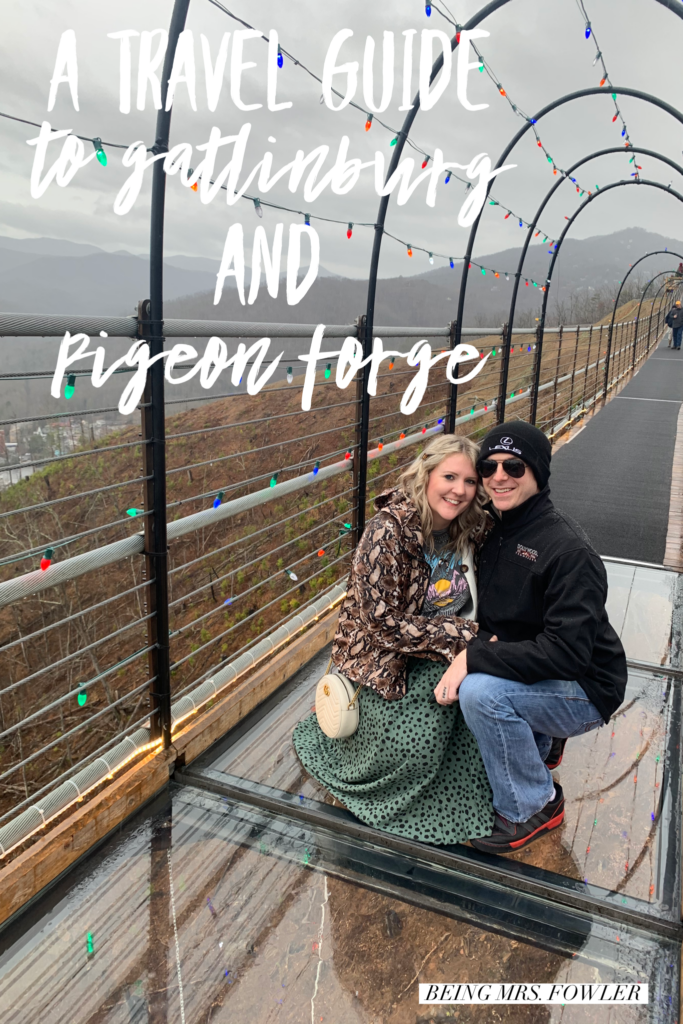 ---